Istanbul - 16th April

<![if !vml]>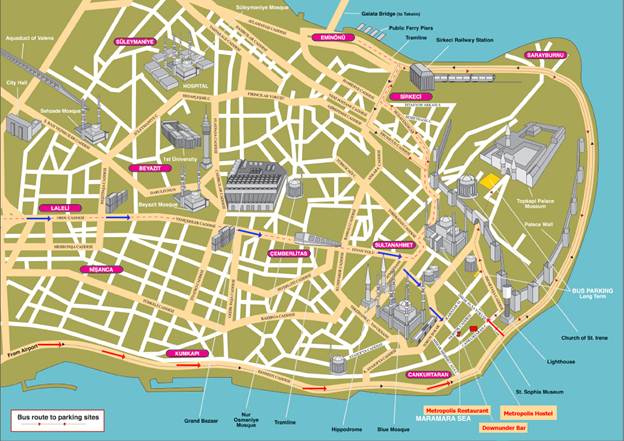 <![endif]>
Map of Istanbul
Arrived at a reasonable time but I was just completely whacked after travelling non-stop for goodness knows how many hours. Let's see; waited at the train station at Varsity Lakes from 7:30 till the train left at 7:48 on Monday 16th, then arrived at airport and had to wait until the plane left at 2:50am the next day. Flew to Singapore and had to disembark wait for an hour and then re-board the same plane. Then on again to Dubai where we arrived later than scheduled and had to be rushed through security and check-in and then flying again to Istanbul, arriving at (I think) 6:00pm on the 16th. So far that's 20 hours flying and 7 hours training and waiting. Getting out of the airport was a bit confusing but easy enough; then by metro and (crowded) tram to near the hostel took about an hour. Finally, the directions to the hostel were not particularly good so I spent about 45 minutes walking around trying to find it. I eventually dropped my bags at 8pm bringing to an end ~ 30 hours of discomfort.

Can't say the hotel's what I expected. It's much more run down than I thought and the double bed is two single beds pushed together, so if I slept in the middle I'd slide down between them. It's also smelly and smaller than it ought to be. Still, the shower is a good pressure and most welcome. The power points aren't what I expected, so it's lucky that I brought a range of adapters. Everything works just fine and there's a good wifi here. It's unfortunate that the signal doesn't reach to the upstairs dining area, but that's life.
Istanbul - 17th April

Nice breakfast. Very basic, just boiled eggs, luncheon, bread (good), tomatoes, and free tea and coffee. Unfortunately the last two items are almost undrinkable - the tea is absolutely foul.

In the afternoon I wandered up to the two of three main attractions in this town. First to the Hagia Sophia. Quite impressive, but it would be better if it was a little bit refurbished. I don't mean that the frescoes should be repainted or anything like that, but it would be nice if the place was cleaned, some of the stonework repaired, and maybe some of the environs given a bit of upkeep too. I doubt that there's any value left to be gained archaeologically from leaving it in this condition (in fact, repairs might lead to some valuable discoveries; there's no evidence of any other research that's would be interrupted by it.
<![if !vml]>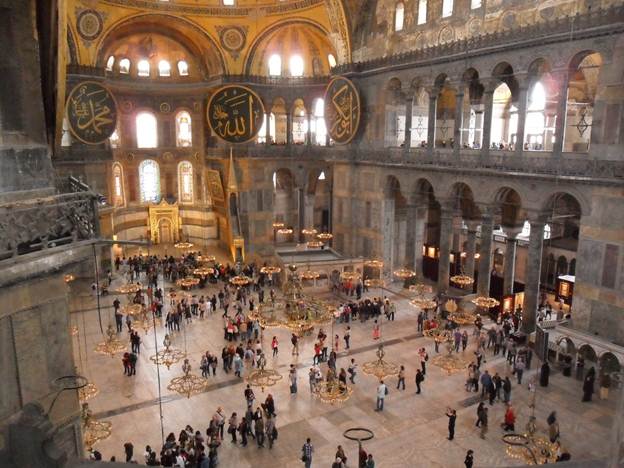 <![endif]>
Interior of the Church of Holy Wisdom
<![if !vml]>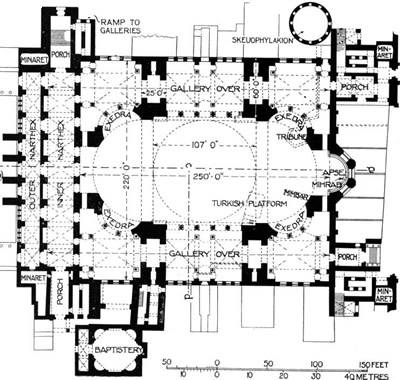 <![endif]>
<![if !vml]>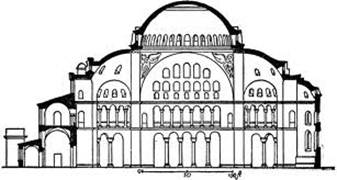 <![endif]>
Plan and section of Hagia Sophia
<![if !vml]>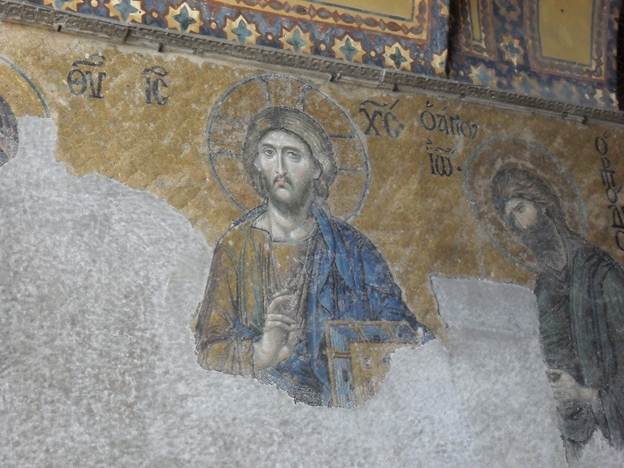 <![endif]>
Frescoes in gallery of Hagia Sophia
Second, the Sultan Ahmed mosque. The interior I thought was also quite impressive: the decoration made it prettier than the Hagia Sophia, but it wasn't as magnificently proportioned. The courtyard was unimpressive, with a very second rate fountain.
<![if !vml]>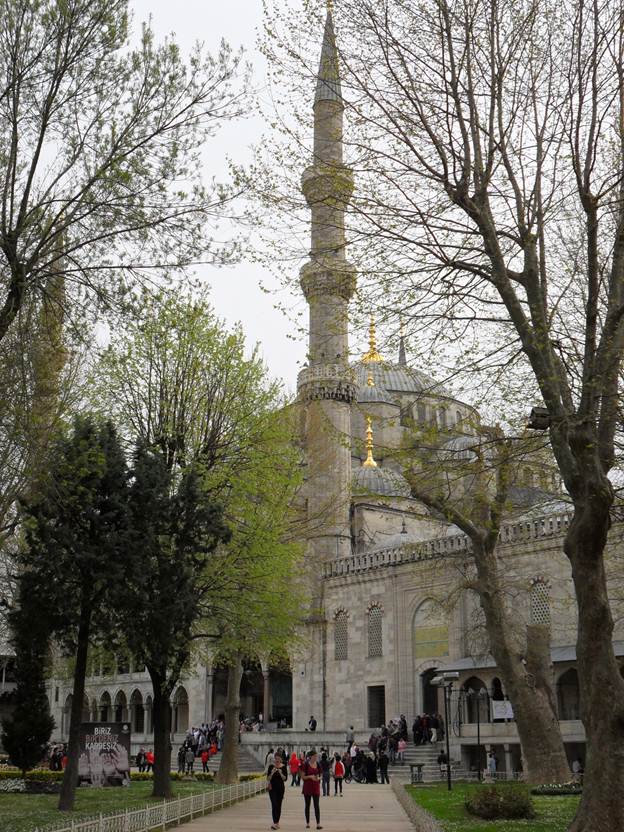 <![endif]>
<![if !vml]>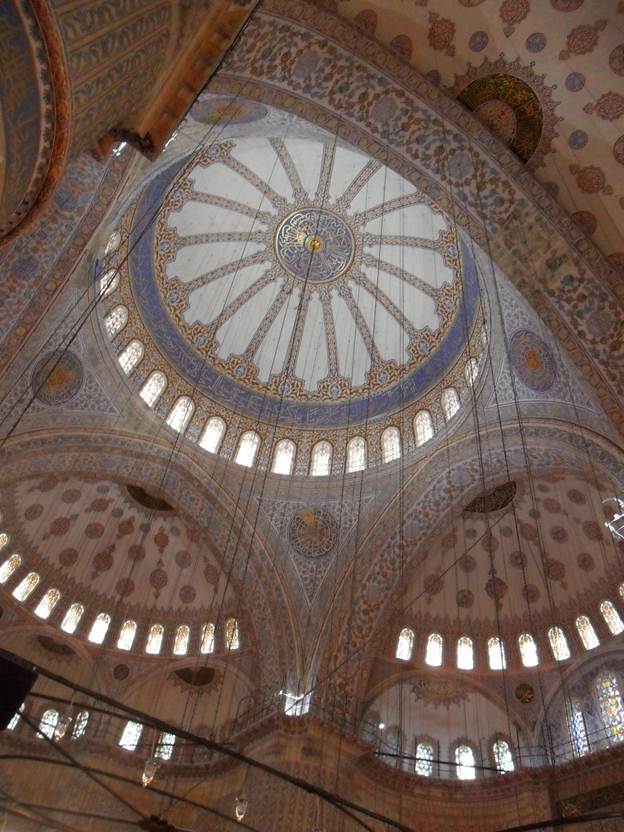 <![endif]>
Sultan Ahmed Mosque
<![if !vml]>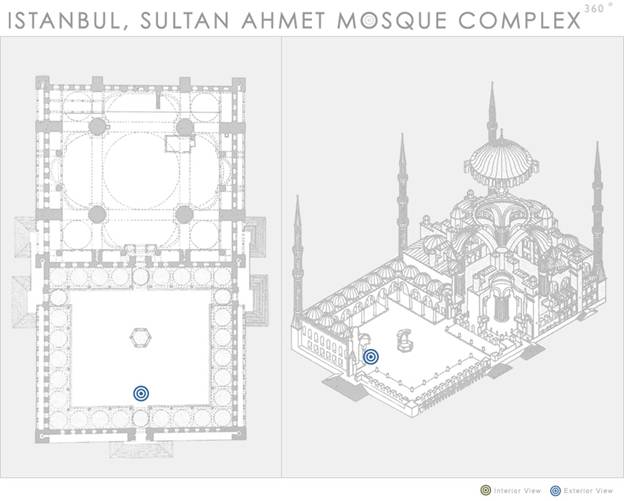 <![endif]>
Sultan Ahmed Mosque plan and section
Walked around for a while a bit aimlessly and found myself down near the Bosphorus, and had a look around the Little Holy Wisdom. A very human scale church - now apparently a mosque. Tut tut, such insensitivity. From there I went to the shorelines, but I have to say they could do something better with it: it was very shabby.

Other things were closed by the time I got there so home and relaxing a bit more, but I'm really quite recovered from yesterday and the day before. You know, a good shower really helps a lot. I drank some tap water to discover, while I had time, whether the water was going to be a problem. I write this a day later and there's nothing to report, so that's good.
Istanbul - 18/04

Went to the Topkapi gates but they were blocked by soldiers, so instead I went for a walk up the main street around here, the Divanyolu Caddesi. It was an interesting enough walk as far as the University. On the way back I took a detour down a side street as far as the ocean again - and it was exactly the same as before. Walking past the fish markets I was pestered by people who obviously thought that a tourist would be just in the mood to carry around some raw fish as he went about the city sight-seeing.

Spent a pleasant couple of hours in the Starbuck's on this main street. They do seem to be the only people who know how to make a decent cup of coffee around here. Everyone else burns it and makes it with all water. The cappuccino is an espresso grande with (bad) froth on the top. Blecchh.

Dinner at the Turquoise next door. Had a delicious one, Gevuc, I think it's called, followed by Baklava of course.
Istanbul - 19/04
<![if !vml]>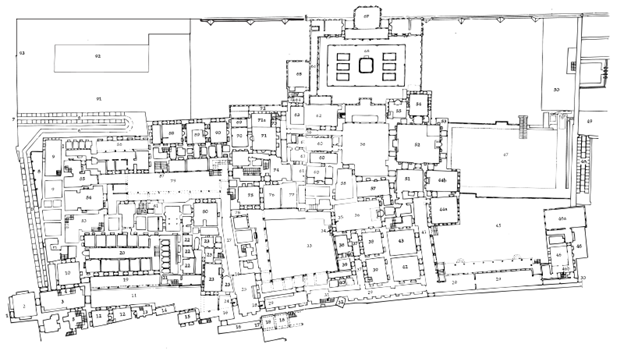 <![endif]>
Plan of the Topkapi Palace

<![if !vml]>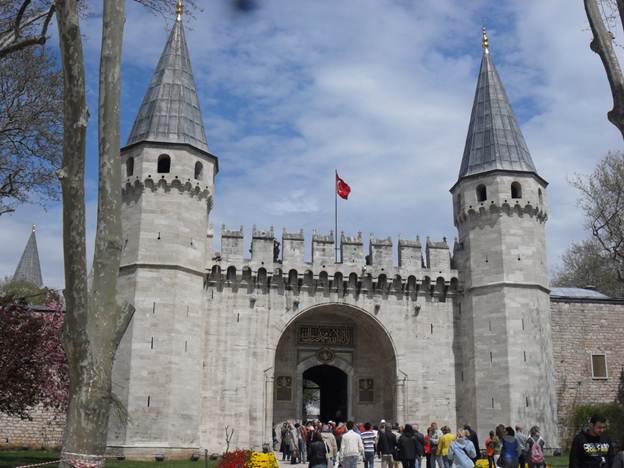 <![endif]>
Gates of the Topkapi Palace
Made it to the Topkapi (Gun Gate) palace today. I trudged through the exhibitions of jewellery, but I can't say I was very excited by it. I preferred the bizarre exhibits of the beard of the prophet, which he apparently cut off after he took Mecca, and distributed amongst his friends. The pieces were reassembled gradually by the Ottomans. You know, I actually doubt this. There were also rehafted swords said to have be longed to Omar, Uthman, Ali; fabrics belonging to (hazrat) Fatima; and various other oddities. Unfortunately, it was not allowed to photograph these things.

Photographs could be taken of the rooms of the harem and other pavilions of the Palace. But eventually one brilliantly and unrestrainedly tiled room begins to look much like another. It really is true that sometimes less is more.
<![if !vml]>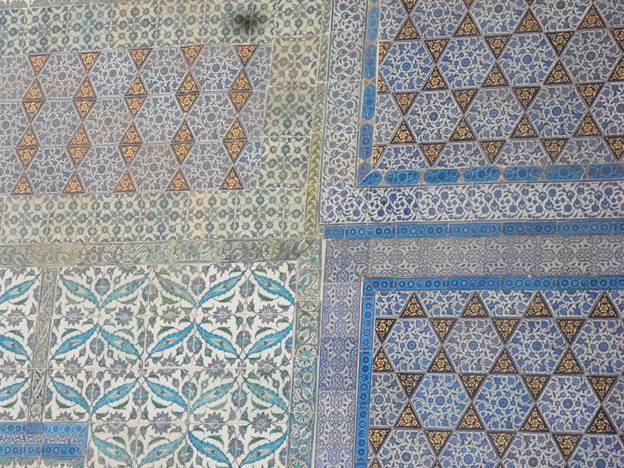 <![endif]>
<![if !vml]>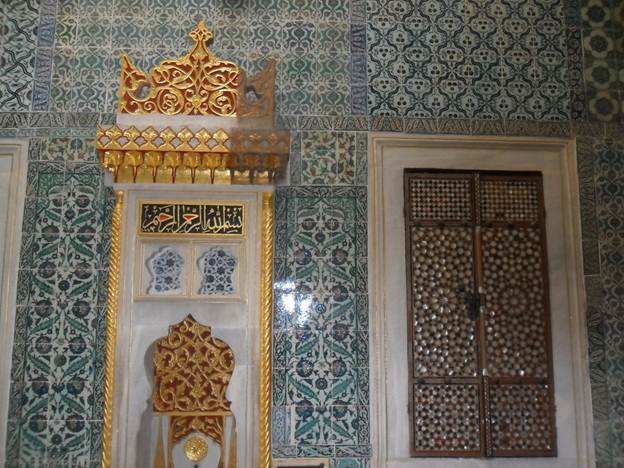 <![endif]>
Tiled walls in the Topkapi Palace
<![if !vml]>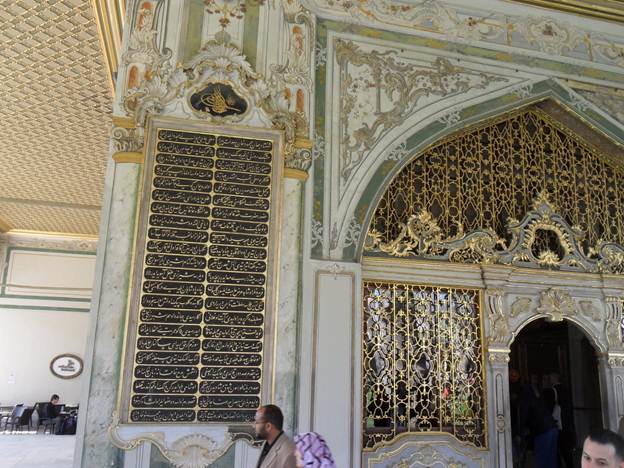 <![endif]>
Fancy exterior decorations on a Topkapi Palace building

Much more generally impressive was the Archaeological Museum. I was particularly struck by the following items
1: The display of Mesopotamian cuneiform texts, including some really nice pieces from Early Dynastic times (not so labelled) and from the Akkadian period. Good stuff. The cylinder seals were too small for my camera to focus on so I used my iPhone (also as a magnifying glass) and I hope they turned out ok.
2: Thracian burial votive plaques which displayed a dedication or a reference to 'the hero on horseback' . I hadn't heard of this before, but apparently it is the source of a common icon on the plaques or stelae. A horseman, generally riding to the right, approaches an altar, and behind the altar there is a tree which hides a snake. Occasionally, there is a dog who follows the horseman. The icon is not explained, but it must surely refer to some myth.
3: Early Byzantine art, which didn't seem so very different for the later stuff. There was a nice series of Good Shepherd statues which showed Christ carrying a sheep over his shoulders. Another interesting plaque showed a scene of Jonah being swallowed by the 'Whale." But this creature looked very much more like a crocodile.
<![if !vml]>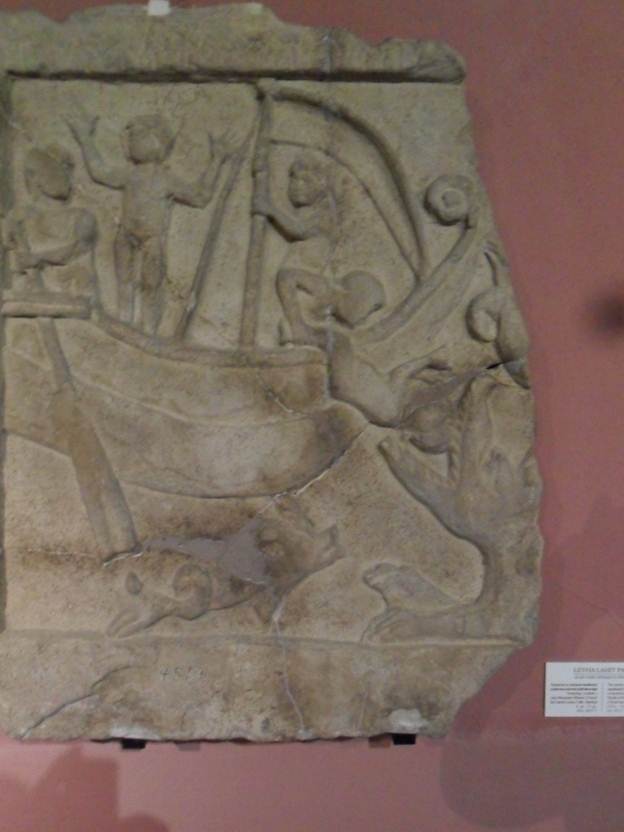 <![endif]>
Leviathan

Dinner at the Turquoise again, and still satisfactory. Awful coffee again and I went out to find better at about 11pm, but things were mostly shut, which I thought rather unusual for one of these Oriental countries.
Istanbul - 20/04

Another long walking day; but I spread it out so that it wasn't too painful. After my standard breakfast I walked off to Starbucks again and from then up to the Grand Bazaar. It was an interesting enough place but it seems to be almost entirely directed at the tourist traffic, since there wasn't much there I could imagine natives wanting to buy. I was also struck by the repetitive nature of the shops. Just how many shops selling lamps, rugs, watches, tea, T-shirts, pottery, and other such bric-a-brac can a finite market support? The market was interesting, however, in being almost completely indoors.
<![if !vml]>
<![endif]>
Grand Bazaar

<![if !vml]>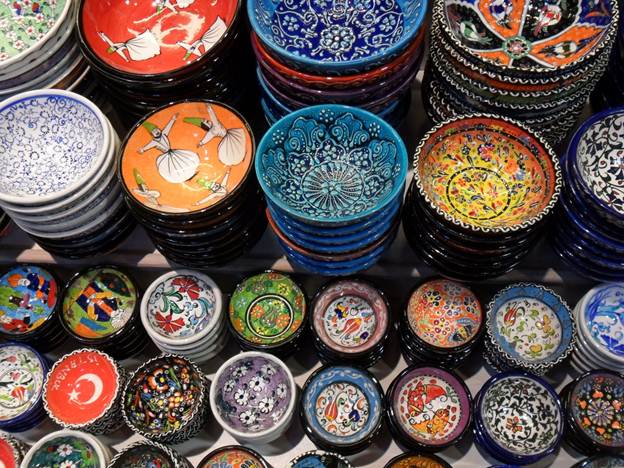 <![endif]>
A display of bowls in the bazaar

To the Suleimaniye Mosque. It's a very massive mosque. I think that although the Blue Mosque may face the Hagia Sophia across the courtyard and has often been seen as the 'answer' to that Roman masterpiece, yet for sheer beetling front, the S M has it all beat, and is really the one that can confront the Roman work on its own terms.

<![if !vml]>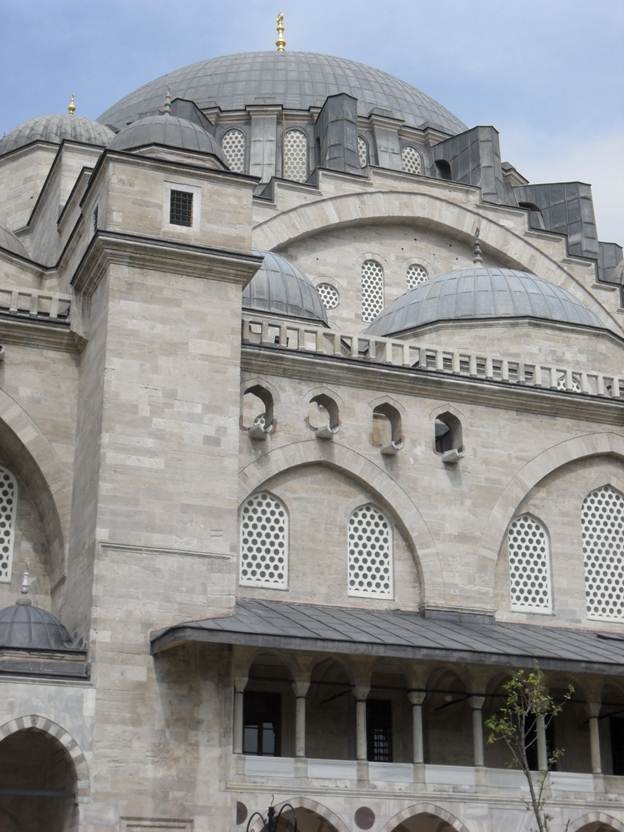 <![endif]>
Suleimaniye Cami
<![if !vml]>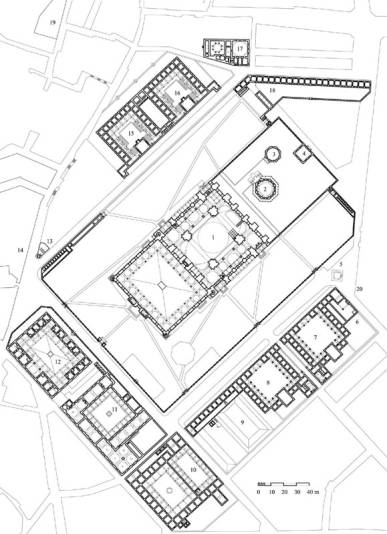 <![endif]>
Plan of the Suleiman Mosque:
(1) mosque, (2) mausoleum of Süleyman, (3) mausoleum of Hürrem, (4) Koran recitation school, (5) public fountain, (6) elementary school, (7) first (evvel) madrasa, (8) second (sani) madrasa, (9) remains of medical school, (10) hospital, (11) hospice, (12) guesthouse, (13) Sinan's tomb with domed sabil and empty plot of his endowed school and residence, (14) the janissary agha's residence, (15) third (salis) madrasa, (16) fourth (rabi) madrasa, (17) bathhouse, (18) hadith college, (19) madrasa near the palace of Fatma Sultan and Siyavus Pasa.
(ref: http://rolfgross.dreamhosters.com/Islam-Web/Chapter 6.htm)
From there I visited the aqueduct of Valens. This took me forever to find since none of the maps I have correspond tolerably with the actual streets on the ground.

Dinner at the Turquoise again. That'll be the last time. It hasn't been as impressive the last two times as it was on the first.
Istanbul - 21/04

Exhausting afternoon with very little result. Went to the Otogar to see about getting s ticket for Bergama overnight on the 23rd. The first difficulty was in getting to the place: the link at Aksaray was entirely non-obvious. There are no signs at all to tell you how to get from the tram stop to the light rail stop. I haven't seen anything this crap since the Beijing metro to airport fiasco at Dengshikou! And when I got to the supposed place of buses, there was no signage again, so I wandered around for ages (it seemed) until I found a ticket office where no one spoke English. Well, I eventually got my ticket but I don't feel satisfied at the efficiency of it.

I'm writing this in a cafe in Istiklal Caddesi having arrived by funicular from Katabas. Again, not terribly impressed. This is apparently the main street, that all tourists must see, but it's just a bunch of shops going down a hill. I dare say the nightlife is pretty good, but for me that's irrelevant.
<![if !vml]>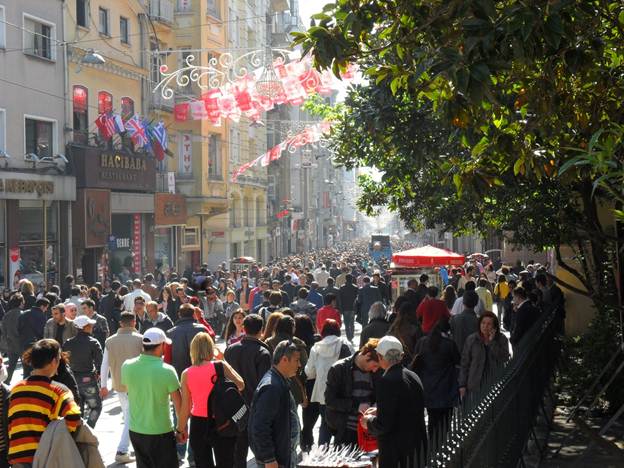 <![endif]>
Saturday crowds on Istillal Caddesi

Leaving the shop, I went past the Galata tower and considered going up it for the view, but the queue was too long and my spirit failed.
<![if !vml]>
<![endif]>
Galata Tower
<![if !vml]>
<![endif]>
High quality buskers at the base of the Galata Tower
In any case the walk down the hill and across the Galata Bridge supplied all the views I could want.
<![if !vml]>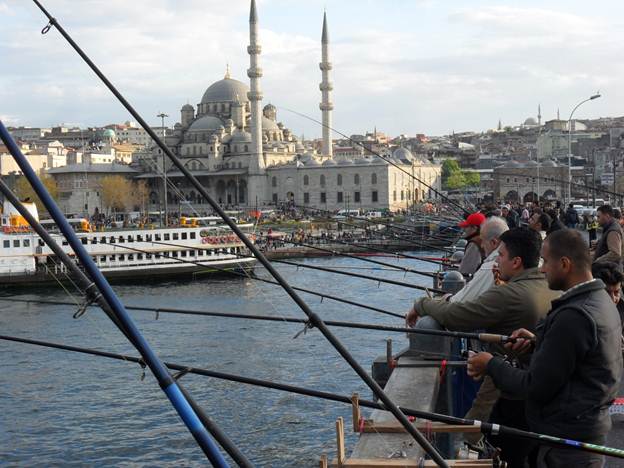 <![endif]>
On the Galata bridge

At the end of that bridge I found the Spice Market, which was not Novak cleanly different from the Grand Bazaar - although there were, of course, rather more people selling spices and sweets. I bought some and will consume same later.

<![if !vml]>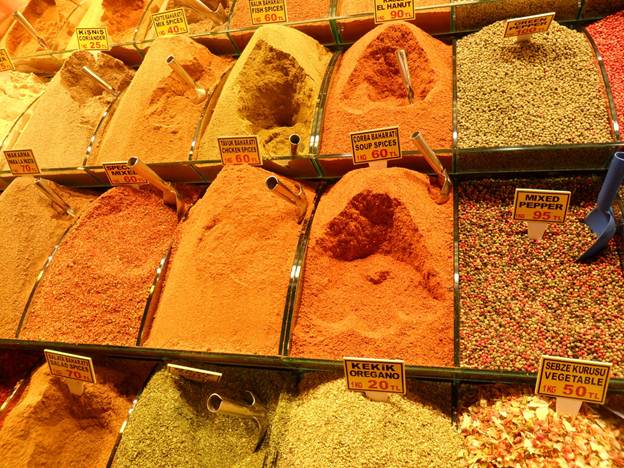 <![endif]>
<![if !vml]>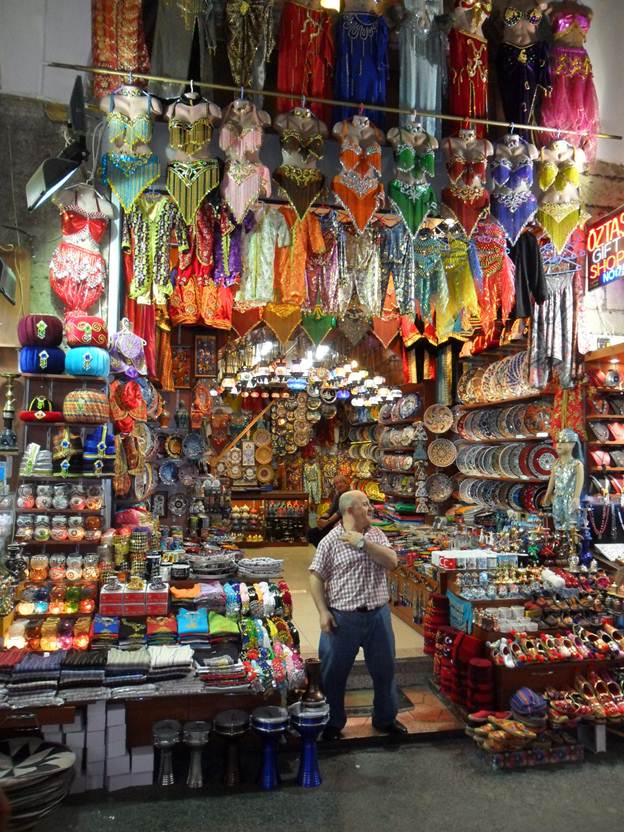 <![endif]>
In the spice market
Today was a bit of a strain. The streets and trams and trains were more crowded than I have ever seen before - and I've been on the trains in Bombay and Beijing at peak hours. OK, the Bombay train was worse, but the streets were much less crowded. And anyway, it looked like half the people in the streets and most of those in the shops were tourists. You know, I'd really hate to be here in the high season.

I'm relaxing now in the Starbuck's on Divanyolu. Thank goodness for bland, standardised, homogenized, ... reliable, high quality international franchise foods.

And now after a wander up and down my little street I'm back in the Turquoise. I had intended to give another of the locals my custom, but they were mostly just the same or were too busy. (I had a couple of amusing conversations while I was walking.) This place is pretty full too, and the service is a bit erratic.
Istanbul - 22/04

Couldn't be bothered doing too much today. Down to the Gulhane park and lay around reading Sense and Sensibility, and watching the Turks taking the sun. It's surprising to see the young people walking around and being affectionate to each other. One expects that girls wearing the scarf and very modest clothes would behave somewhat differently, but they are about the same as the girls who walk about parks in Australia.
<![if !vml]>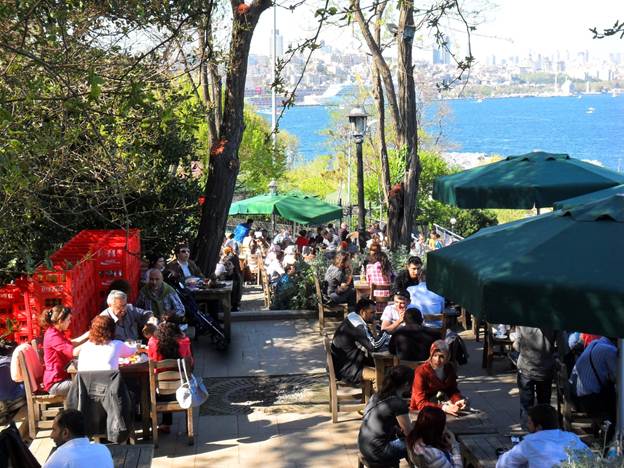 <![endif]>
Café at the east end of Gulhane Park