Athens - 07/05
<![if !vml]>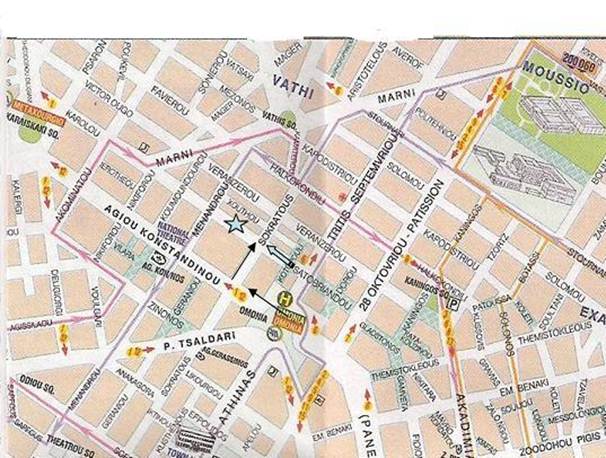 <![endif]>
My hotel, the Ionis, is at the intersection of Halcocondili and Menandrou
This was a pretty easy day but it was a bit dull too. There was no difficulty getting to the airport, and there was no great drama about the flight, or about getting the Metro in Athens to Monastiraki, switching lines to get to Omonia, and walking to the hotel. The room turns out to be extremely comfortable. (I must remember to get a photo of it.) The neighbourhood is quite as 'sketchy' as the reviews warned, but since I don't intend to be wandering around much at night I don't really care. Anyway, the shady characters don't look all that hard to handle to me.

No, the real bother is that it all just took so long. The flight was only about an hour, but you have to get there 2 hours ahead (which is rubbish) and so you have to leave the city centre about 3 hours before the flight. It took an hour to get through passport control, because they had just 3 windows open for general passengers and a crowd of several hundred trying to get processed. Then the Metro only runs on the half hour and takes that long to get in, so it was about 5 before I actually got into my hotel. That's (9:30am to 5:00pm) 7 and a half hours of uselessness.

Went for a quick walk to find food, and found a decent looking place nearby, but the food was dreadful. Had a Greek coffee which was ok though.
Athens - 08/05

After a very satisfying breakfast I bought a ticket for Santorini. The travel shop is just outside the hotel and seems to be run by Russians – at least, that seems to be the language they're speaking. Whatever they are, they're bloody disorganised. There never seems to be just one person dealing with you, it's always a matter of going from one to another while several different negotiations and phone calls are going on at the same time. Still, it's done.

Walked to the Archaeological museum. It's a very different place now from the place I visited so long ago; but it's still much too large to stay interested in all its stuff. Happily, the place closed at about 3:30 and I had to leave. There was a lot of good stuff from the Mycenaeans and the Minoans; but the thing that I found most fascinating was the special display they had for the Antikythera mechanism. It's an amazing device that points to a mechanical aspect of antiquity that has more or less been forgotten. I remember reading that many town centres in the classical world had a mechanical timepiece of some sort. I find that just amazing. Does it give the lie to the claim that the industrial revolution or modern science or whatever was thwarted by the Greek institution of slavery. Maybe, but who can say much coherently about counterfactuals?
<![if !vml]>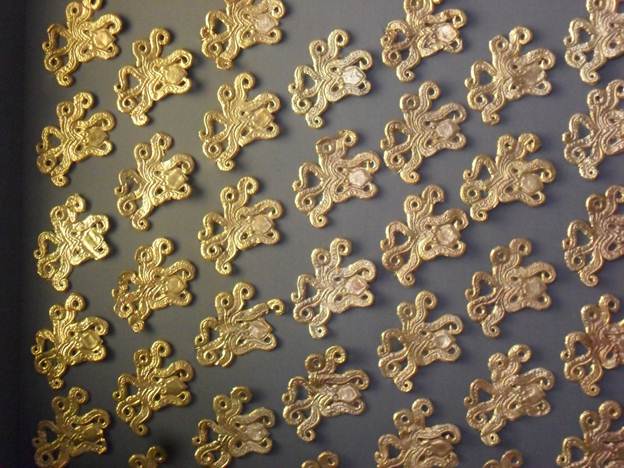 <![endif]>
Octopus jewellery of the Minoan Period
<![if !vml]>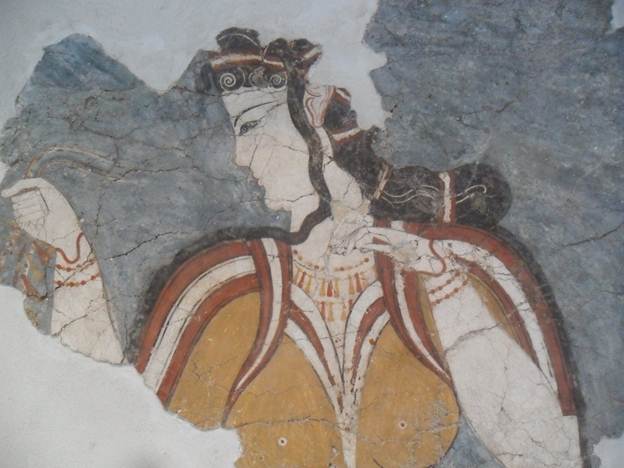 <![endif]>
A Parisienne
<![if !vml]>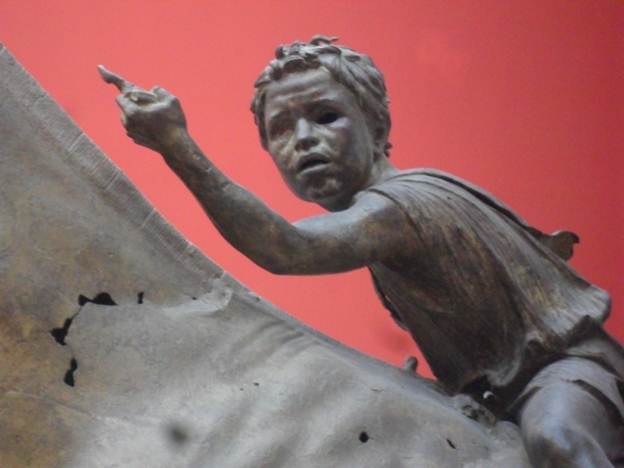 <![endif]>
Boy on a dolphin. I mean, a horse
<![if !vml]>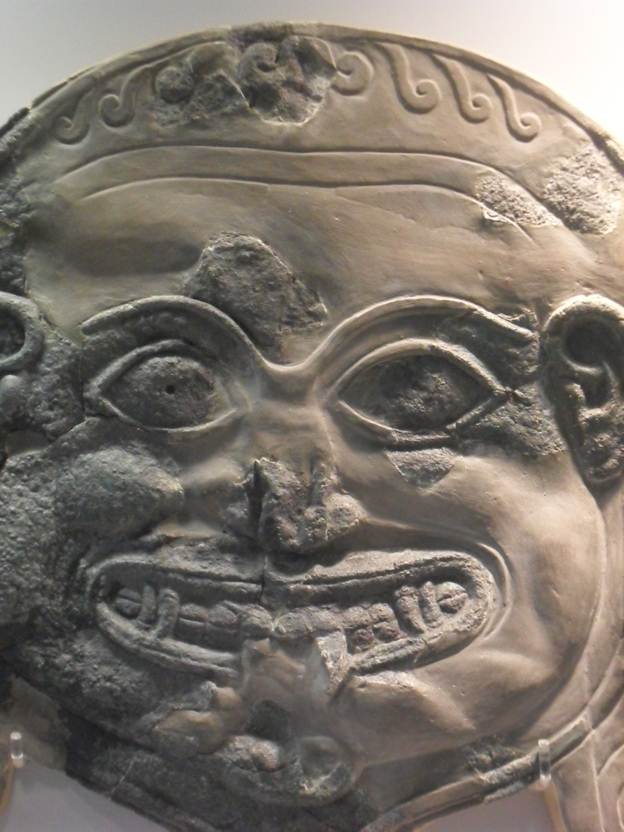 <![endif]>
Gorgon
<![if !vml]>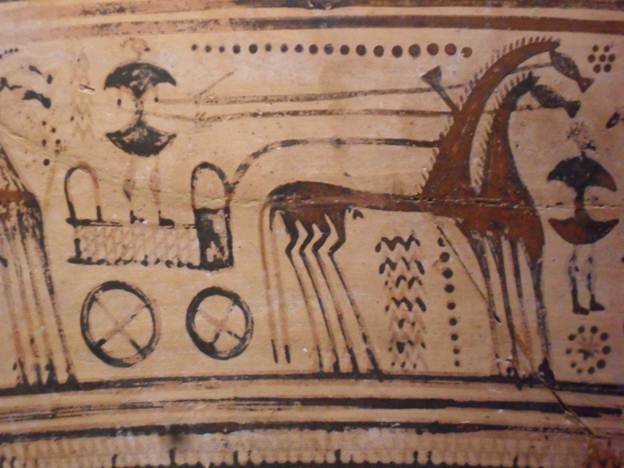 <![endif]>
War carts
<![if !vml]>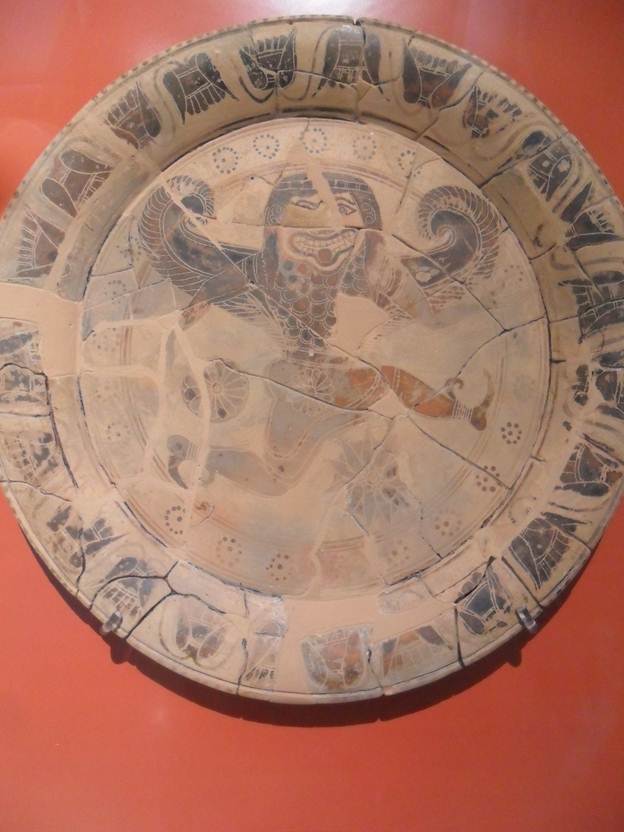 <![endif]>
Monster on the run
I thought it would be a good idea to check the route to the ferry, since it leaves pretty early. It's perfectly straightforward. I have to say that Piraeus is a good deal better organized now too. The metro goes all the way there, there are large signs telling you where the gates are, a bus for the further gates, and just generally all the necessary helps for the befuddled foreigner.

Back through Monastiraki and had another unpleasant Greek meal. What is it with these people and the overlooked meat and poor presentation and everything swimming in f-ing oil? The square outside the station, where I had this meal, is swarming with tourists; perhaps that's part of the problem. I guess here's a reasonable place to mention that there seem to be a large number of blacks around Athens all trying to sell crap on the sidewalks. They're pretty thick on the ground here too.
<![if !vml]>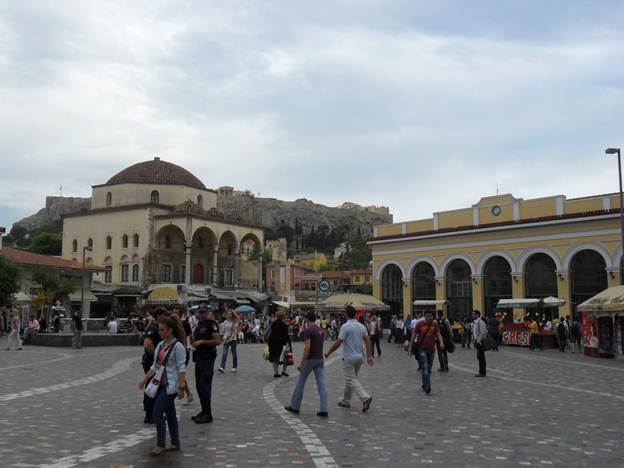 <![endif]>
Monastiraki. The Acropolis behind.
Santorini - 09/05

Since the ferry leaves at 7:25, I calculated 20 mins to walk to Omonia, <10 mins waiting for train, 20 mins from Athens to Piraeus, 5 mins to the ferry, 30 mins for random confusions. That adds up to 1:25, so I would be safe in leaving at 6am. How long will it take me to pack up and get out? Let's give it 30 mins; so I set my alarm for 5:30am. As it turned out, those were all very conservative estimates. (Note, in particular, that it only takes about 15 minutes to pack up a completely unpacked bag and be ready to go. That's quite interesting to know.) I actually wound up sitting in the forward lounge with a cup of coffee at about 6:30. Oh, well, better safe than sorry. I must remark that it's a very flash boat and a very comfortable arrangement.
<![if !vml]>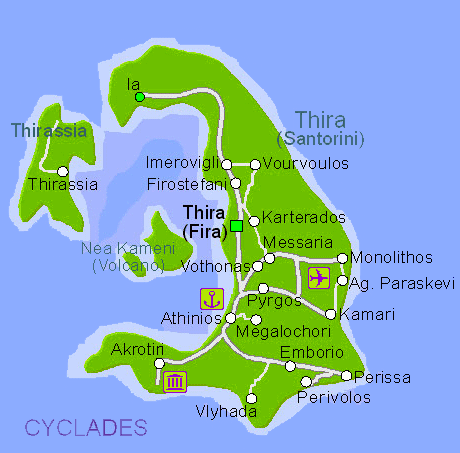 <![endif]>
<![if !vml]>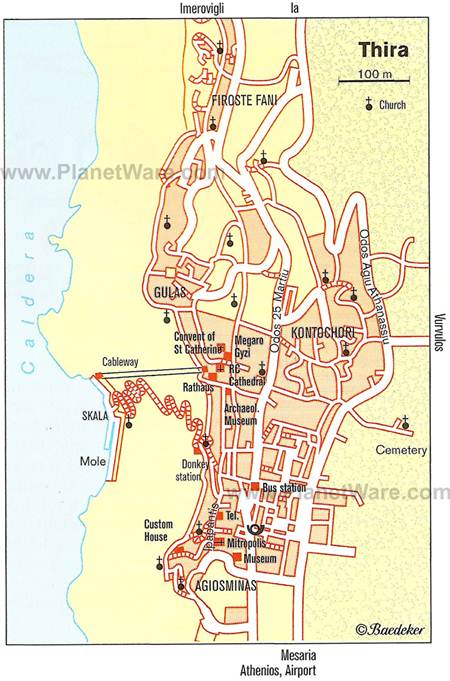 <![endif]>
The Hotel is on Odos 25 Martiu, level with the first 'O' of Odos Agiu Athanassiu

I'm now happily settled in the Aphrodete, which is just as beautiful as the advertising described, although it was a bit harder to find than they'd suggested. The lady who runs the place is very personable and friendly. We chatted for over an hour.
<![if !vml]>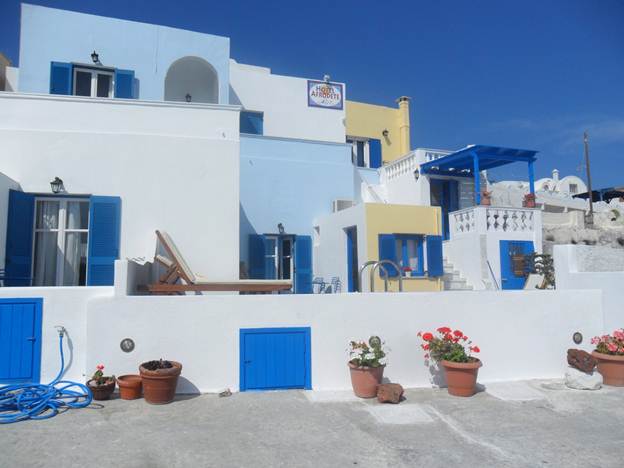 <![endif]>
The Aphrodete
<![if !vml]>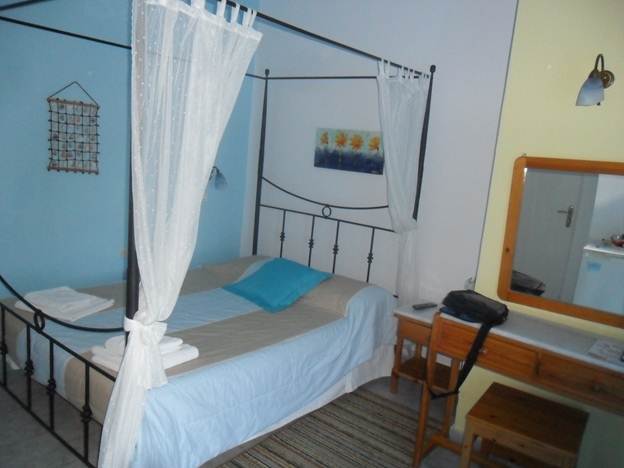 <![endif]>
First room
<![if !vml]>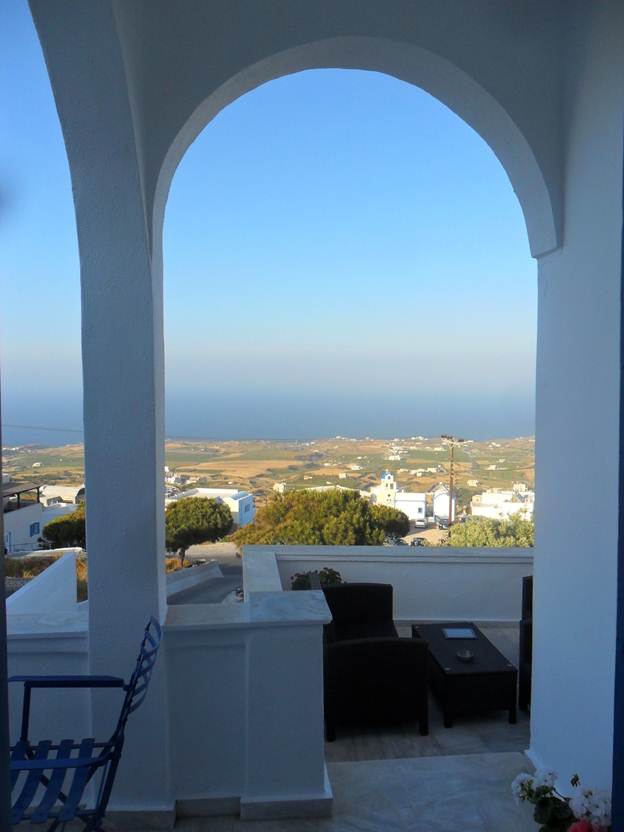 <![endif]>
The view
I changed my room because the lower floor lacked a little privacy. The upper floor is not as beautiful as the lower one, but it is still a very nice arrangement. The lady explained to me a shortcut into town avoiding the main street, and I've just walked along the little village alley to find somewhere to eat. Very successfully, as it happens. This is the first decent meal I've had in Greece, and it's also a very nice little eating spot. I wasn't prepared for the cold of the evening, so it's good that they've got one of those outdoor heaters set up in here. (I think it's usually a roofed terrace, but they close it in at night with plastic windows - that look out over the lower town and out to sea. Gorgeous.)
<![if !vml]>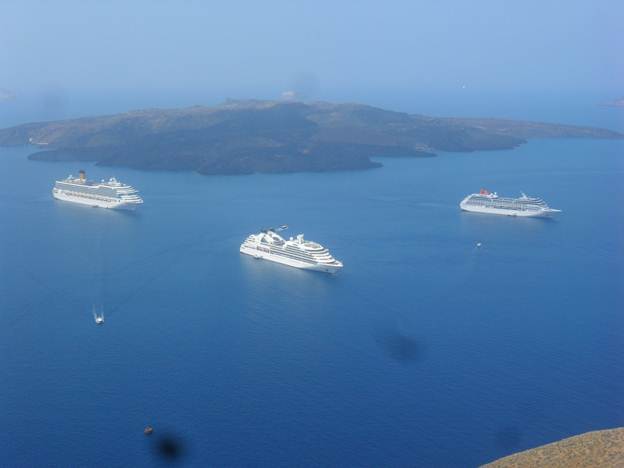 <![endif]>
Just a view into the caldera. My camera has got dirt inside it.
Santorini - 10/05

Nice relaxed day, beginning with a coffee with my hostess. For some reason I woke up very late today - about 9:40 - and so was a little bit stiff. I have to say that the shower turned out to be a bit small, so that it was a difficult job getting around me.

Off to Akrotiri, which was ok, but not really all that interesting. They need to do a little more in the way of introducing the public to the significance of the site, which is more or less assumed by the notices and brief descriptions of the sights. Mind you, I hadn't expected to be able to see the excavations at all, since they only opened recently (my guidebook, useless thing, said it was still closed.) I promised the lady of the hotel photographs of the new place, but the ones I got weren't very inspiring. There's a nice little village on the sea shore down there too, where I had a quick cup of coffee while I was waiting for the bus.
<![if !vml]>
<![endif]>
Akrotiri
Tomorrow I should be sure to have a look into the museum to,see more about the findings at Akrotiri (though much of the best stuff has been taken to Athens,) but I didn't do that today. Instead, I went along to the cable car (which we fluent Greek tourists call the 'teleferik') and descended to the Old Port. It was scenic enough, but unless you're going across to the inner volcano there's not really much there.
<![if !vml]>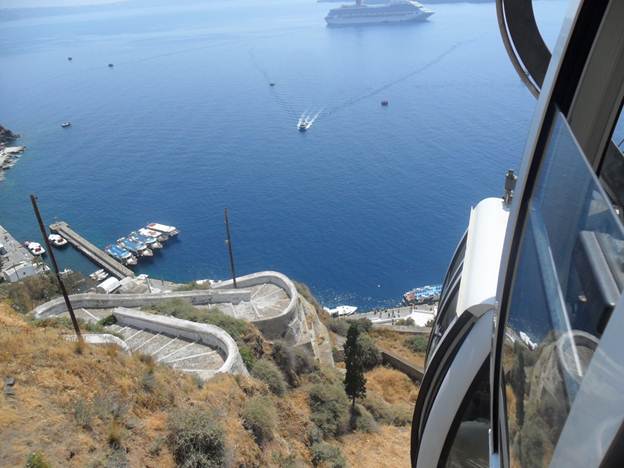 <![endif]>
On the cable car
<![if !vml]>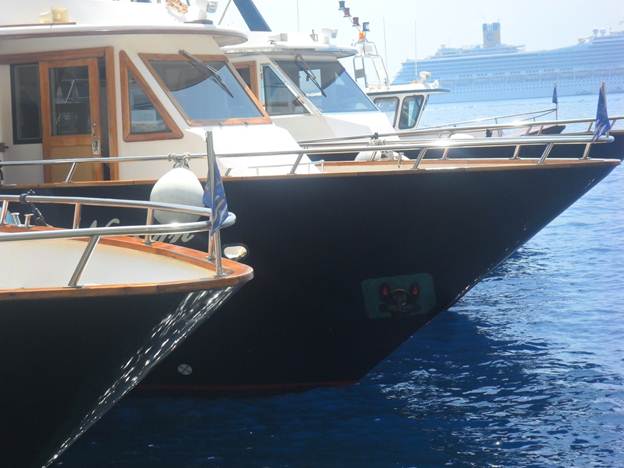 <![endif]>
Tour boats at the old port
Wandering around the tourist centre streets here makes it pretty clear how Santorini is surviving the Greek economic turmoil. There's so much beauty here that it will never be short of tourists. I had a nice lunch overlooking the Caldera and came back for dinner. The views are just *spectacular*. I made sure to send some photos of them to Susan who'd asked whether I was back in Oz yet. With any luck it'll turn her completely green.
<![if !vml]>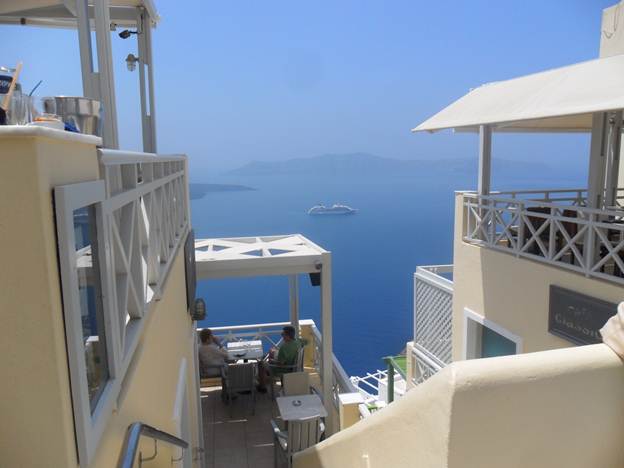 <![endif]>
<![if !vml]>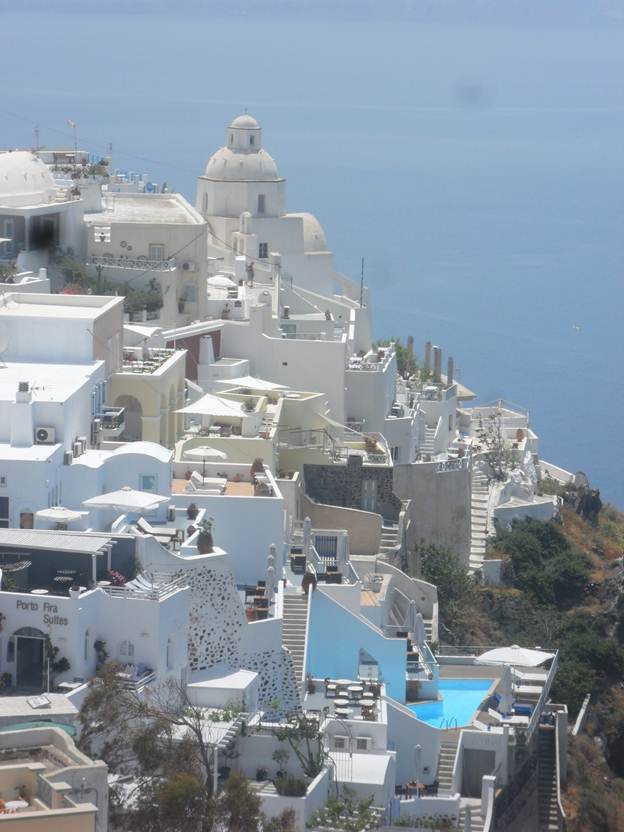 <![endif]>
Fira
And speaking of green, I had a glass of the house red with my meal, and I am quite definitely drunk. I would not be confident about driving in this state. I think I need to practise this when I get home. It is a bit pathetic.
Santorini - 11/05

Woke up to a phone call from Akabu (calling from my place on my phone.) That was very nice, but we talked for quite a while, so I'm expecting a bit of a bill for that - on both ends! In addition, I mentioned a shop I saw last night and she said that that would be a good place for me to buy her a present. So, I have a mission today.

And after that I went out looking to arrange payment, breakfast, luggage storage, and so on. Wound up having a coffee with Angeliki and chatting for about an hour again. It must be very slow here in the low season. She says that there's a bus at 2:30, but that if I get back here at 2:10 she can give me a lift with my bag to the bus stop. Sounds good.

Wandered up to Firostefani, and notice that it's only a few steps from this hotel and would have been a much more convenient place to have dinner. I'm having an English breakfast now listening to the managers having a row. That's not so pleasant.
<![if !vml]>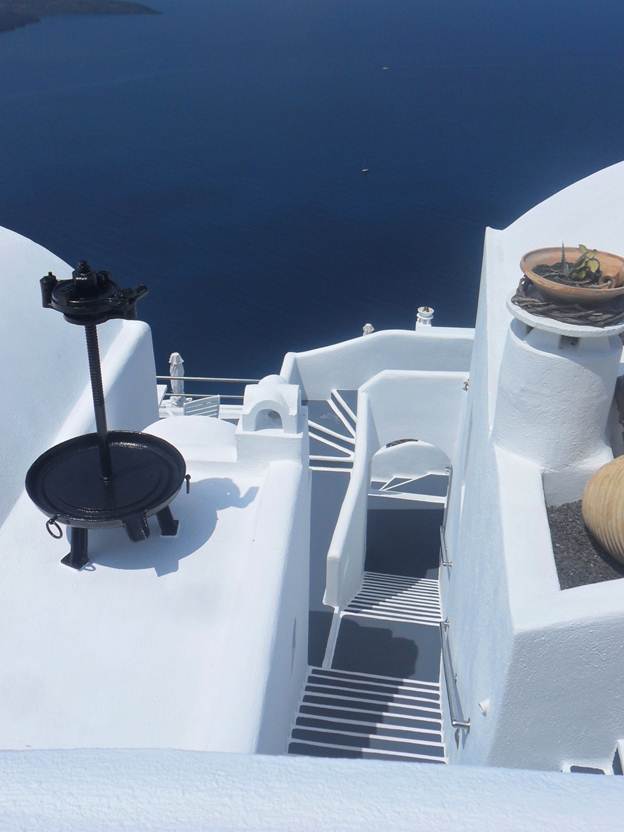 <![endif]>
<![if !vml]>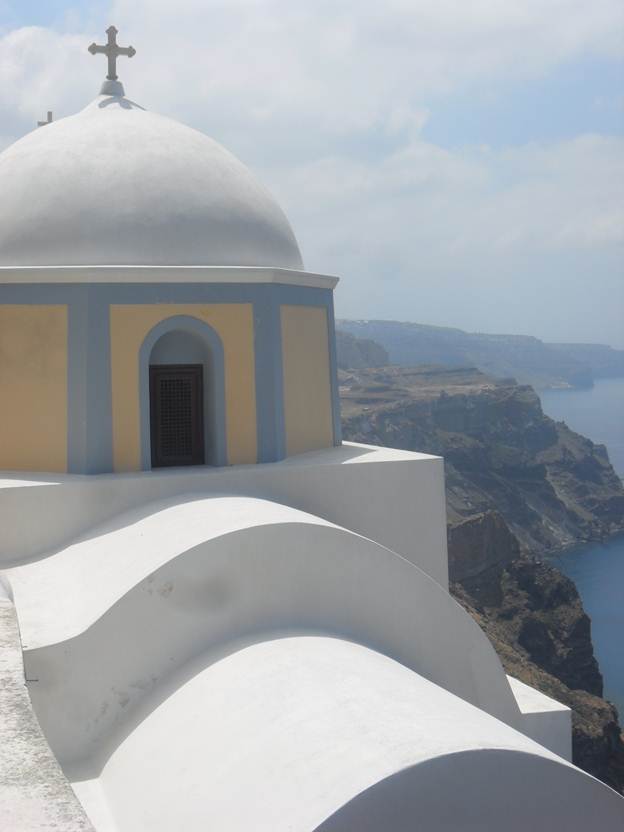 <![endif]>

Firostefani

The shop, mentioned above, did not have the kind of present that she wanted, so I had to hunt around for another place. Eventually, I bought a pair of sunglasses after a good deal of testing of the various options with the in-shop model, who seemed to be quite enjoying her work.

The ferry was about an hour late, so goodness knows what time we can expect to be in Athens.

Athens - 12/05

I wondered what time the ferry would get us into Athens, and now we know! It got in at 12:10, and we stated unloading at about 12:30. Catching the metro and walking the short distance to the hotel and registering at the desk got me into my room at just bit past 1am. It feels like yesterday was one of those wasted 'travel' days.

Anyway, a nice breakfast again at this hotel. Sets me up for a couple of days to follow of just tedium.

Onto the metro and out to the airport. Everything went pretty well from then on and I'm writing this at the Brisbane airport having arrived without incident. The only thing worthy of note is that the last leg of the flight was nicely underpopulated so that people could move about a bit and get themselves a bit of leg space. That made it all much more pleasant. Anyway, I'm now waiting for the 6am train down to Varsity Lakes, and with that the whole thing is over.

Brisbane – 14/05

Home