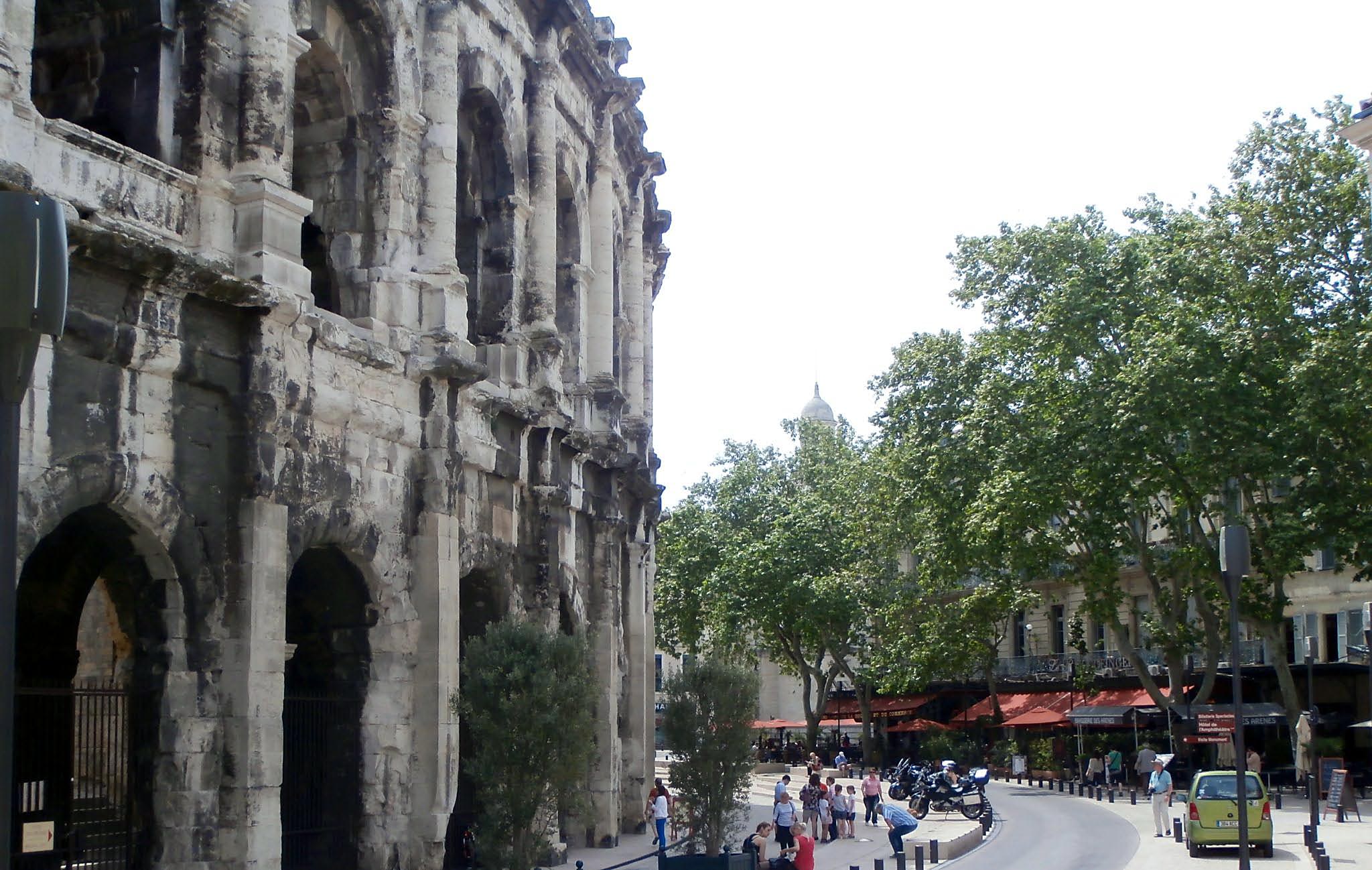 The amphitheatre
The best surviving example of the classic Roman building. I think it's amazing that you can have an uninterrupted view of a 2000 year old structure like this from your restaurant table across the road. That gives you a real sense of the present past.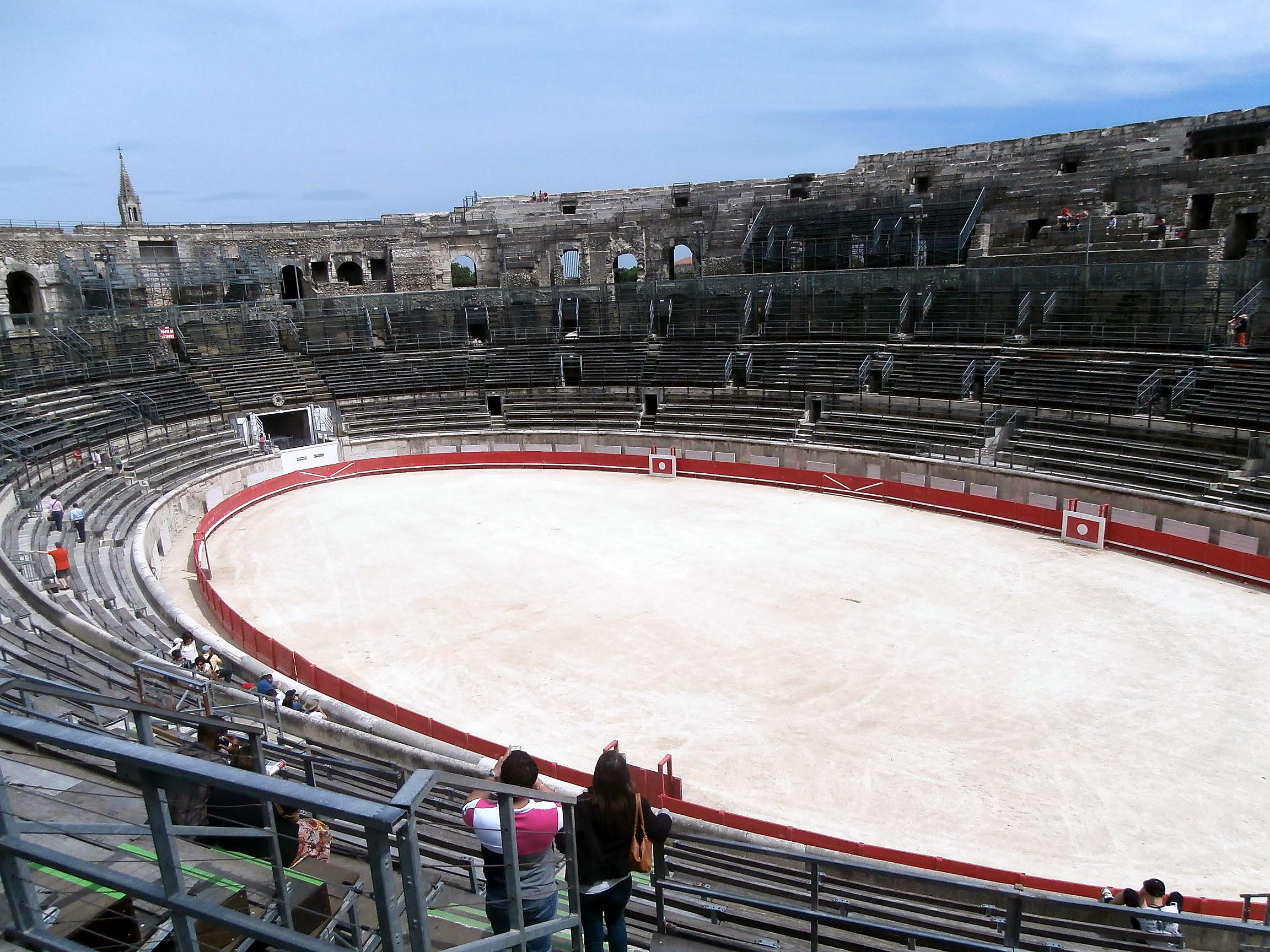 The arena
Where the gladiators slaughtered each other for the amusement of the citizens of this great civilization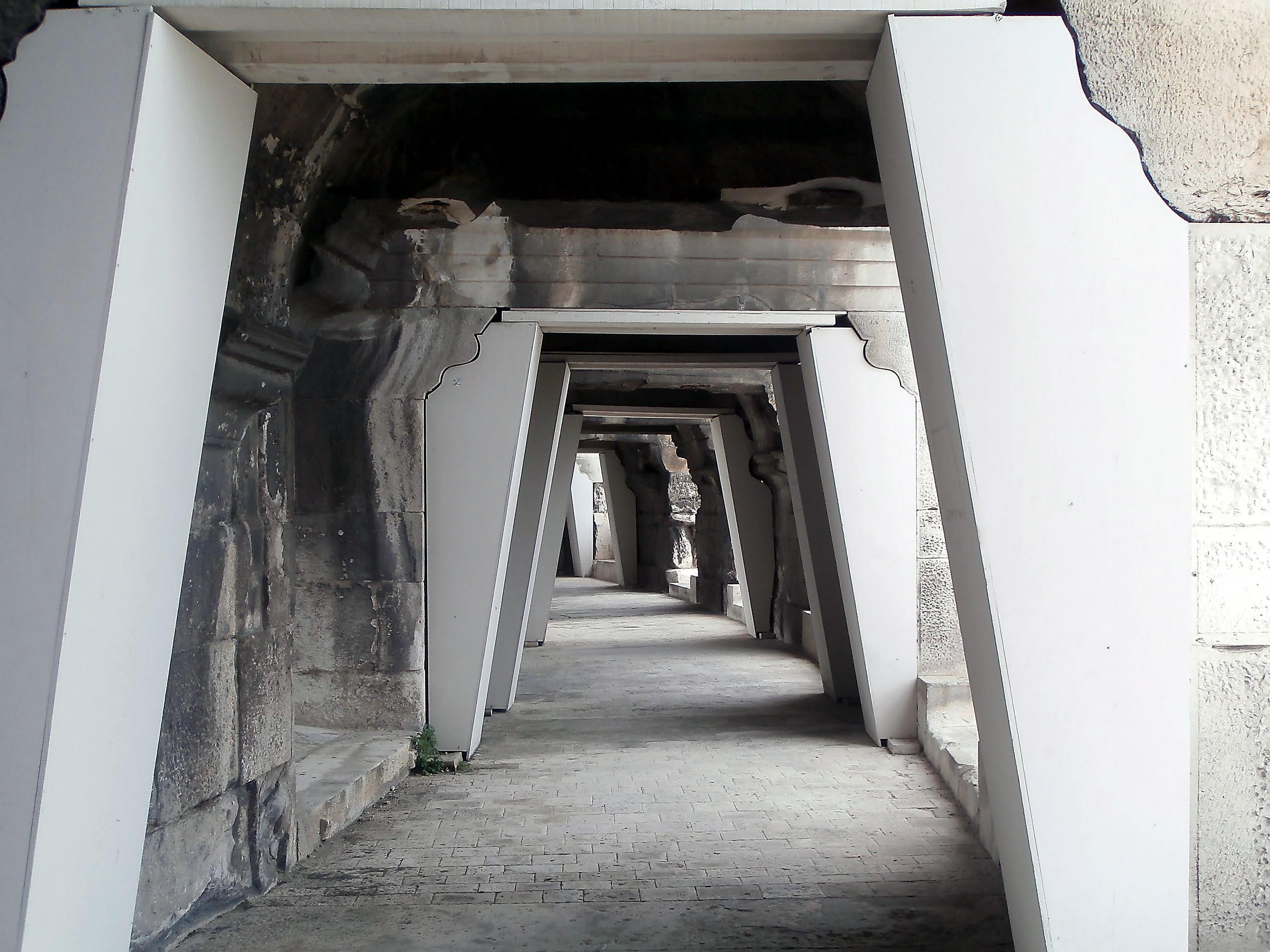 Passages
For some reason, they remind me of the structure in the Star Trek episode 'The City on the Edge of Forever.' However, I don't think there's any connection
The audio guide I got was interesting, but just far, far too long. I listened to it as I walked about for an hour before giving up. After that I went to see the famous Maison Carrée. This is a well-preserved classical temple famous for its perfect proportions and elegance. It now hosts visitors for a 3D sound and vision tracing the outline of the city's history through the stories of a few notable local heroes. We all had to wear glasses, but the thing was pretty effective. What I particularly remember was standing in the sun for 30 minutes in the queue to get in; and being poked and jostled repeatedly by a dopey old lady who would not respect my personal space even when I made it clear that she was annoying me.

Across a space and facing the Maison Carrée is the Carrée d'Art designed by Norman Foster. They say that it perfectly complements the classical architecture of the old building by reflecting its structural themes in the glass and metal construction of the modern. Ha ha. 'They' are full of it. It's just a Yale Box.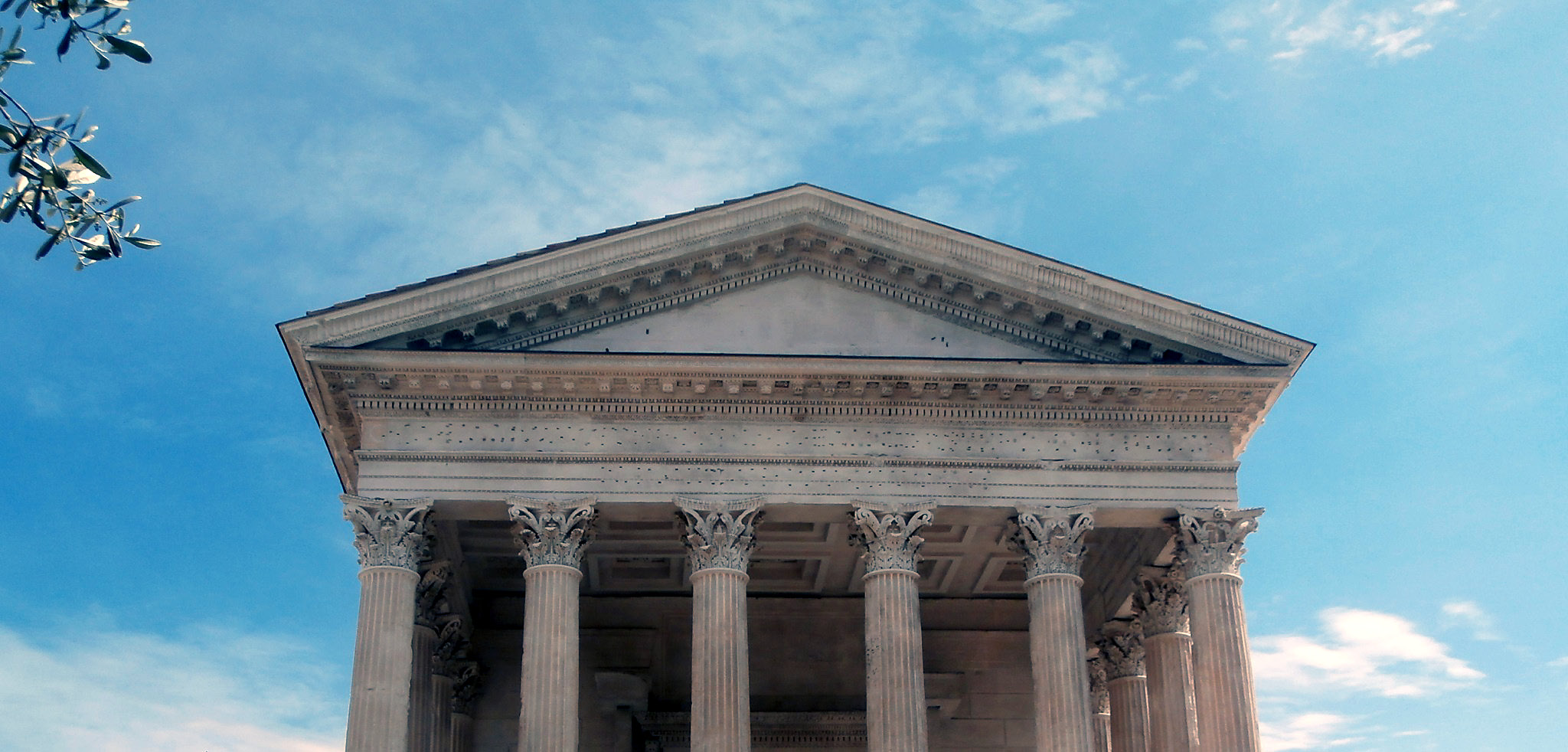 Maison Carrée
A perfect little temple. Jefferson was much taken with it when he was in France. He took it as the model for the Virginia State Capitol - of course, he replaced the ornate Corinthian order with a decent Ionic more appropriate to the simple republican virtues of the new country.
Then along the Quai des Fontaines to see the much less famous Tour Magné, a classical folly that came to be used as a guard and watch tower when the empire went into decline. There's also a story that a couple of centuries ago a local peasant had a dream that there was treasure buried in it. This led to something of a gold rush and the tower was very nearly destroyed by the dismantling and undermining that occurred in the search for this phantom hoard. It took a lot of work to make the building stable again, let alone safe enough for tourists to ascend to see the view - which is worth the climb.
I note in the displays that the town is named for the old goddess Nemoz, which I think shows a pretty strong conservatism in the name. I also read that as a Roman settlement it was called Colonia Nemausus and settled by soldiers who had served with Julius Caesar in Egypt. Hence the city's coat of arms shows a crocodile chained to a palm tree and the string 'COLNEM'. I think that sort of thing is fascinating.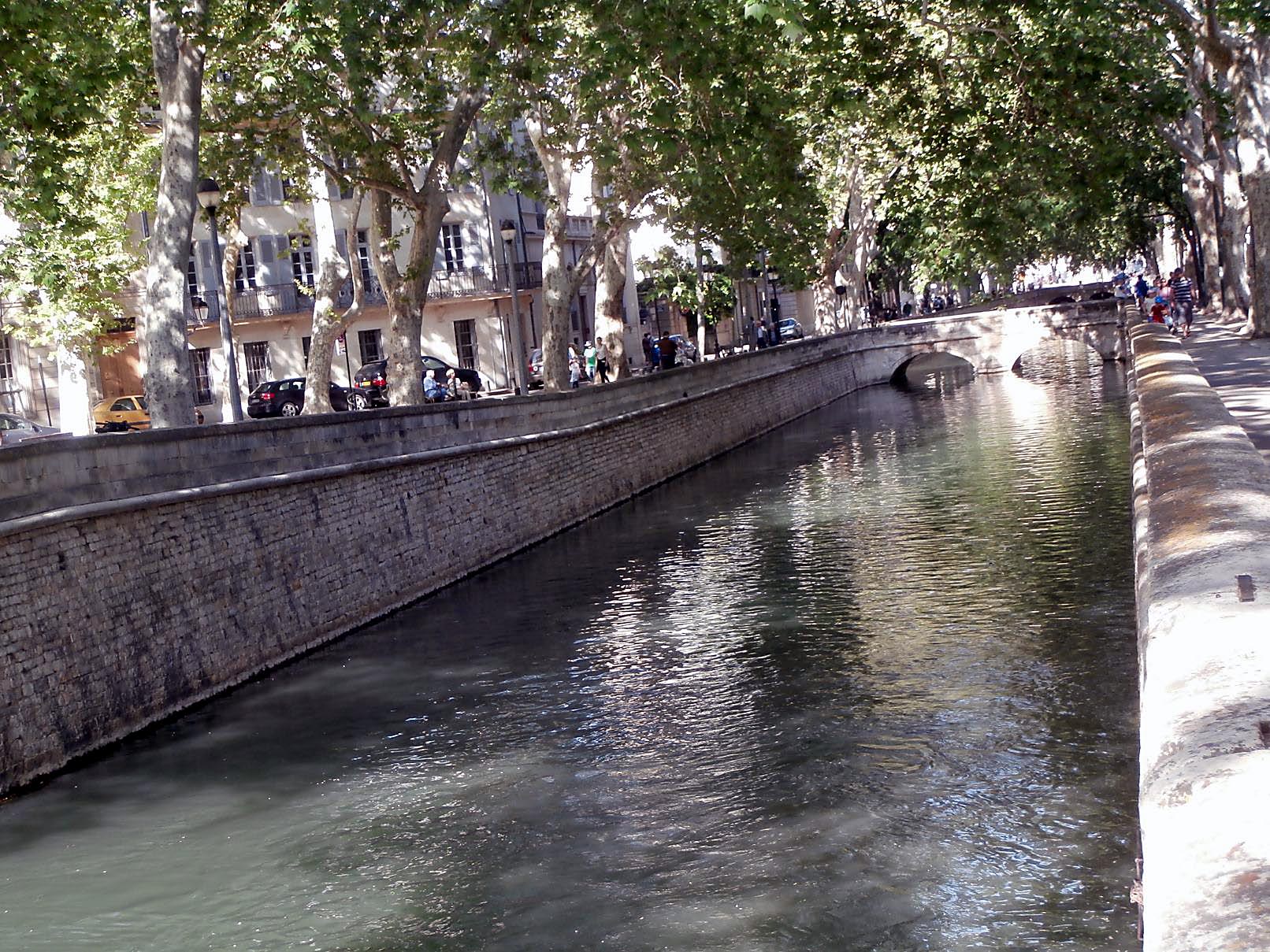 Quai des Fontaines
Les Fontaines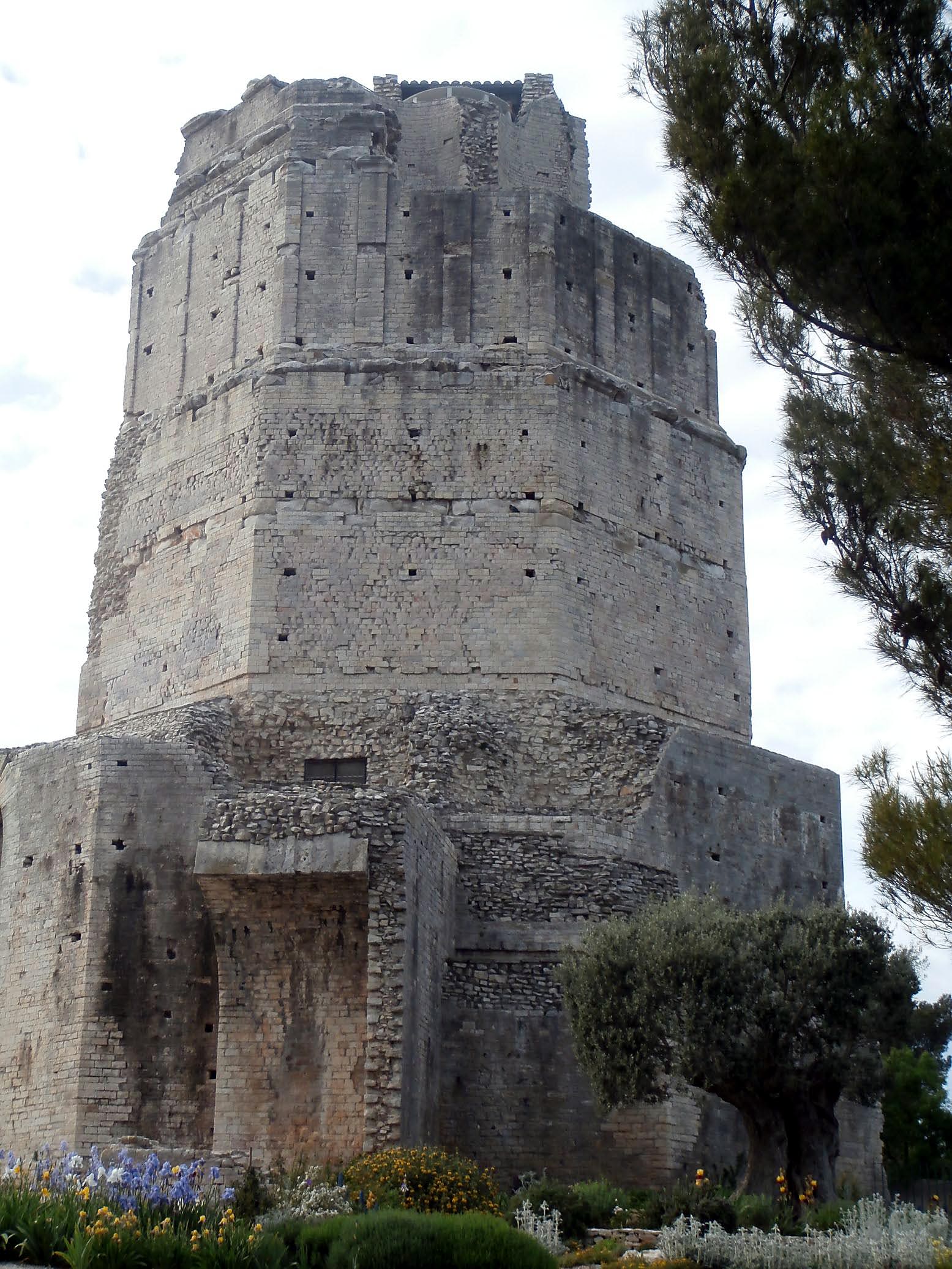 Outside La Tour Magné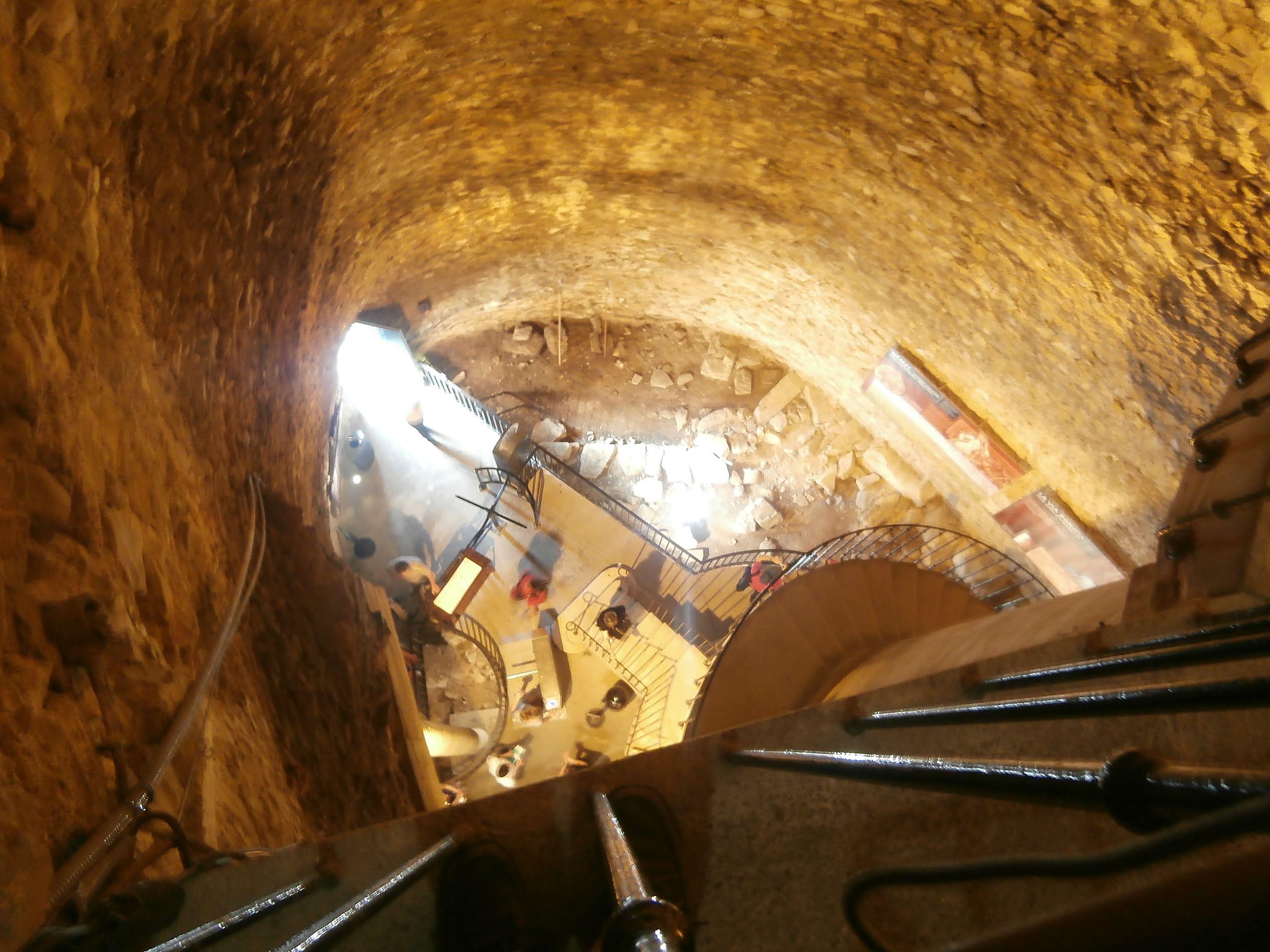 Inside La Tour Magné
Looking down onto the reception area from a landing on the steep and narrow spiral staircase.
Back in the hotel the restaurant was open and good, and I struck up a conversation with an American fellow and his Korean wife. The conversation was pleasant enough, but I really didn't take to him so much. I wonder why. Well, I guess we're not compelled to like everyone unless we positively have definite reasons to dislike them.

09/05/2013
(Friday)
---
To ANTIBES,
I gave up on the idea of visiting the Pont du Gard when I saw how long today's trip was going to be. This all went well until I actually got to Antibes , when the streets became a maze of curving, one- way, unsigned narrow tracks. I had to find a parking spot (illegal) and get out to find the street names and orient myself. Then it was a matter of driving in circles until I found the particular choices of turns that would get me out of this Bermuda Triangle of tourists. Then! I had to find a park near the hotel, which was absolutely not easy. What a chore. But, again, if there'd been more traffic t would have been even worse.

The hotel's quite close to the beach, but the beach is entirely developed. There are chairs and restaurant tables on almost every square inch of it. I can't say that I'm very impressed by the quality of the development, but I think I'm actually closer to Juan les Pins here, rather than Antibes proper, and it might be better on the other side of the cape. I'll check it out later. The walk around the shoreline impressed me mostly by the unattractiveness of the ladies: where are all the pretty girls that I see in the ads? Too many fat, old tourists I think.
Map of Juan-lesPins
My hotel Trianon is marked.
10/05/2013
(Friday)
---
Walked about Antibes today. I was right that this is really Juan les Pins and a bit poorer. Antibes proper is much nicer, but also I think a good deal more expensive.

There wasn't really much of interest here except down on the waterfront, where there were the most impressive boats I'd ever seen. I made a list of some of them to investigate when I got back. They were the:

Sarafsa ( Georgetown )
Anastasia (")
Tatoosh (")
Katara ( Doha )

The last one was a ship by any reasonable definition. It's 125 metres. It was a long walk out to the Fort Carree and not much to see once I got there, but the return by straight line was quicker.

Pizza for dinner at the shop next door.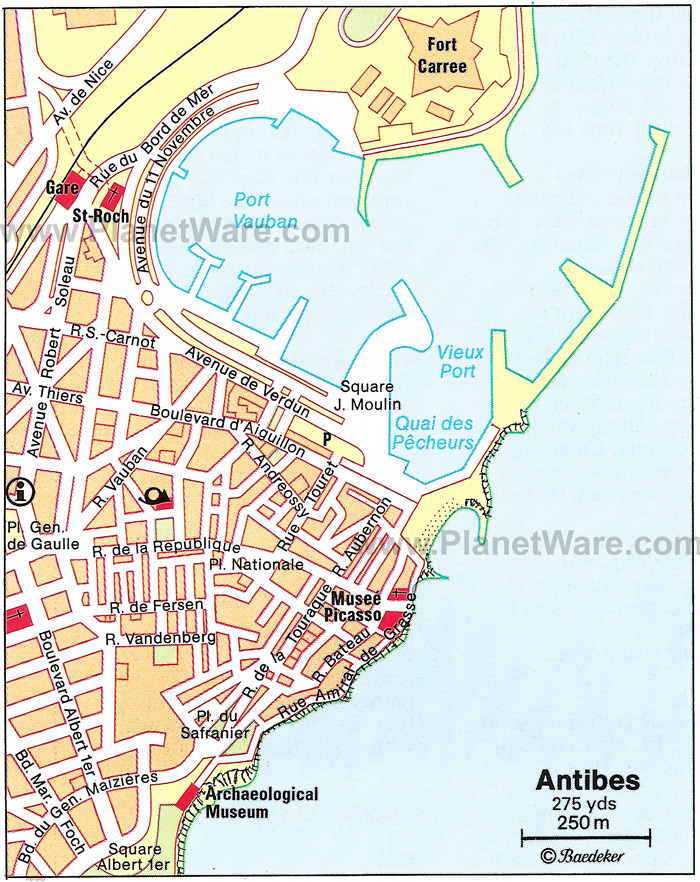 Map of Antibes
This is definitely where the wealth is.

Parasols on the beach
It's actually attached to a restaurant, of course.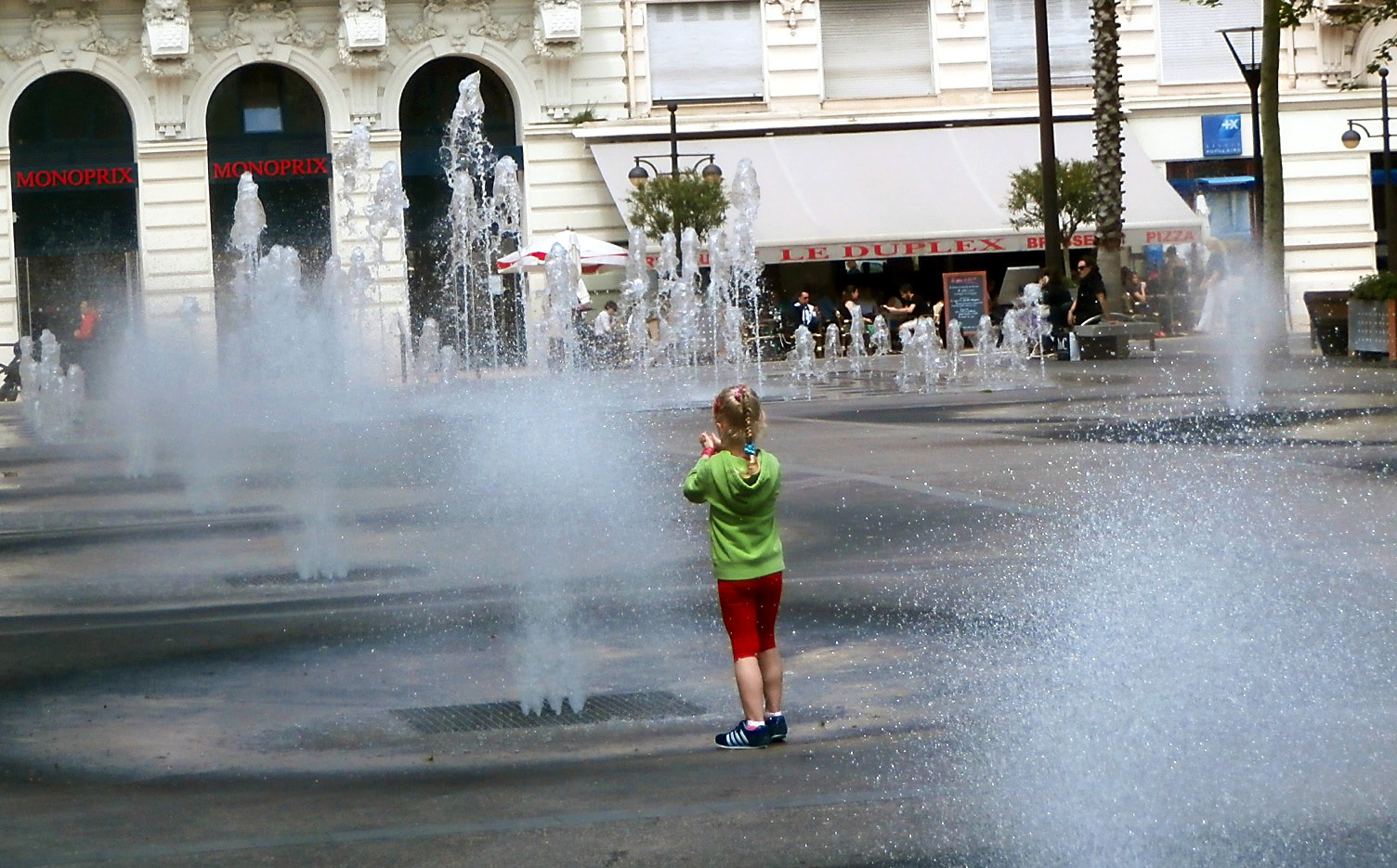 Place de General de Gaulle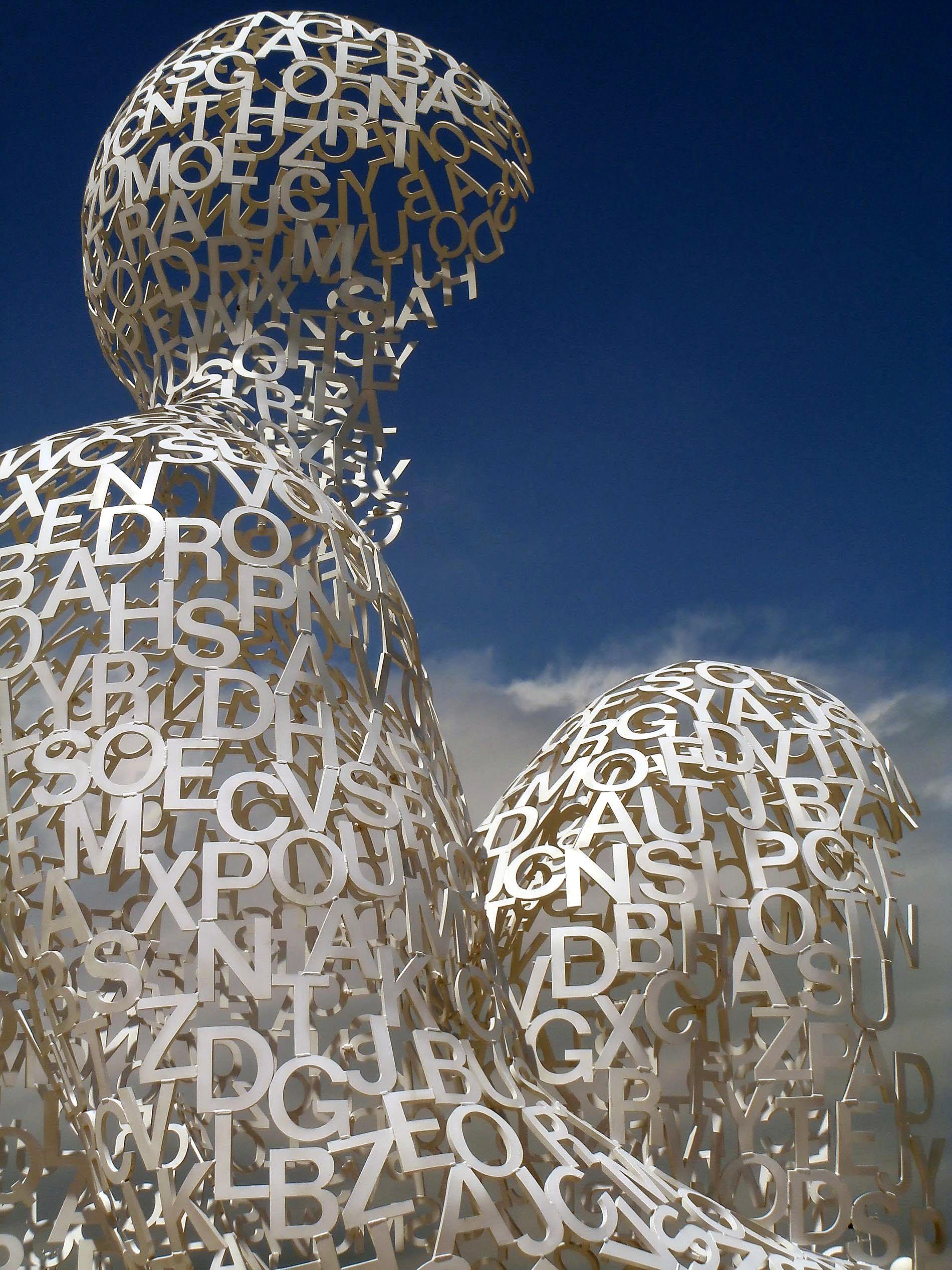 Sculpture
On the quay overlooking Port Vauban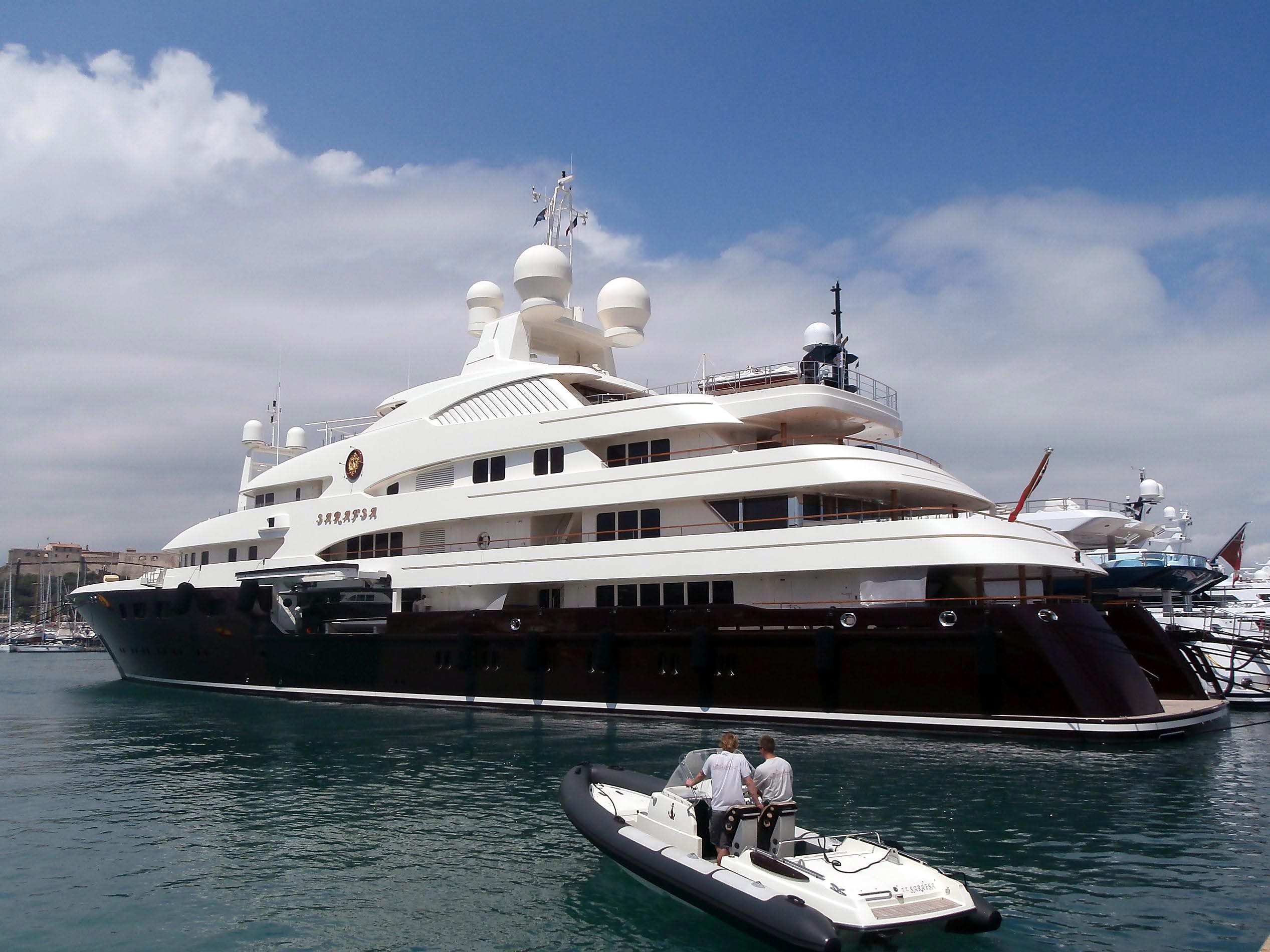 Sarafsa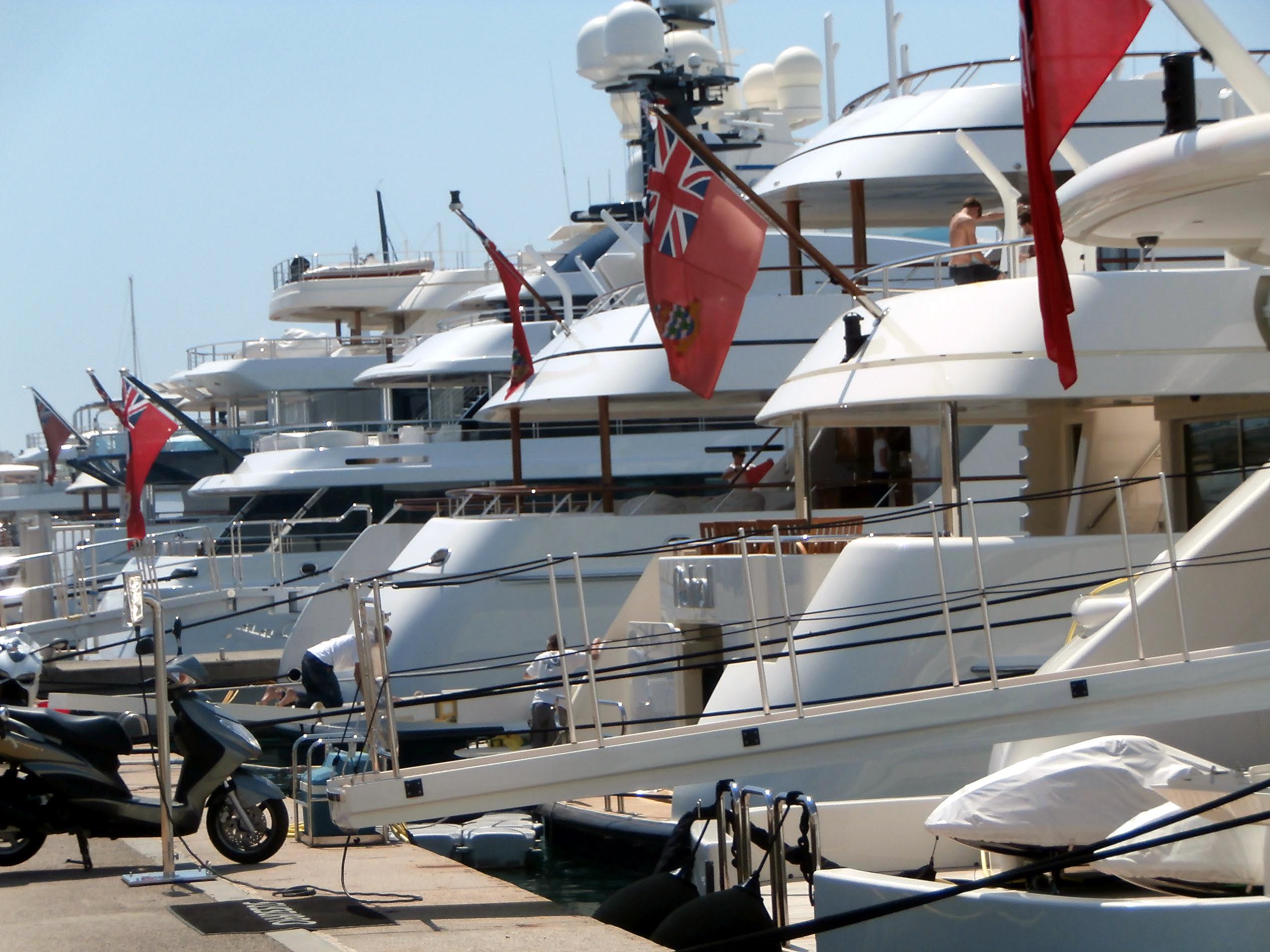 Sterns of the superyachts
Mostly crewed by South Africans and people from the north of Britain to judege from the accents.
I'm told that the owners prefer not to take on French crew because they are entitled to siestat time as soon as they get into French territorial waters. I'm not sure about that story.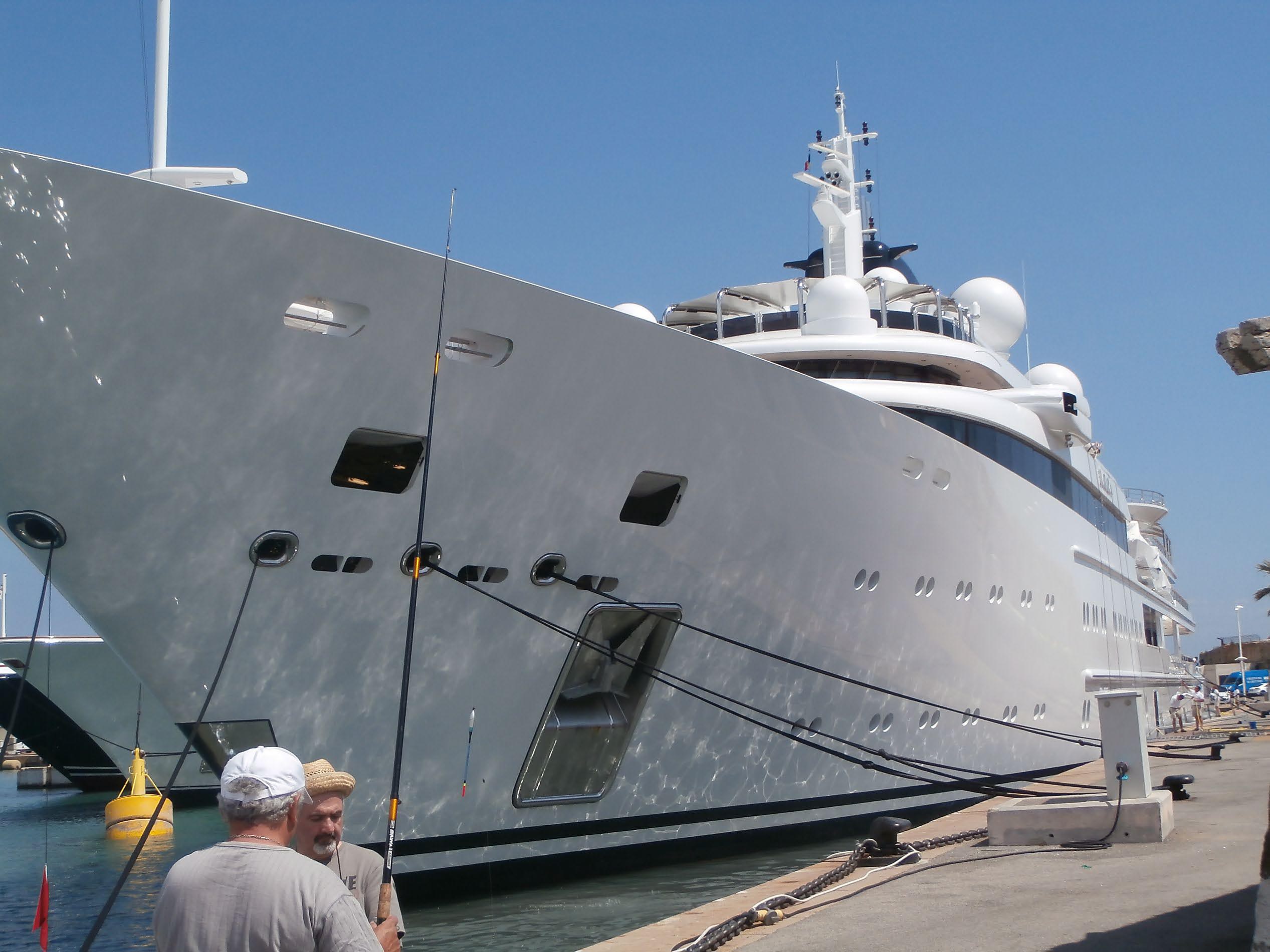 Mostly crewed by South Africans and people from the north of Britain to judege from the accents.
I'm told that the owners prefer not to take on French crew because they are entitled to siestat time as soon as they get into French territorial waters. I'm not sure about that story.
11/05/2013
(Saturday)
---
Had a long chat with Angelo at breakfast. He's a South African guy who's here to get into the luxury yacht business - as an engineer if possible, but as a deckhand as an entree if necessary. The discussion ranged over many topics, but I once more wound up talking about positive psychology, philosophy of life, and the proper pursuit for a satisfactory human life. Is it just me or is this a topic that is much on people's minds at the moment?

Took the train to Nice and wandered about. Just the same as Antibes but a bit flasher. Prettier girls on the beach, bigger hotels, larger Old Town , same crowds. Not to my taste I'm afraid.

Hamburger and chips for dinner.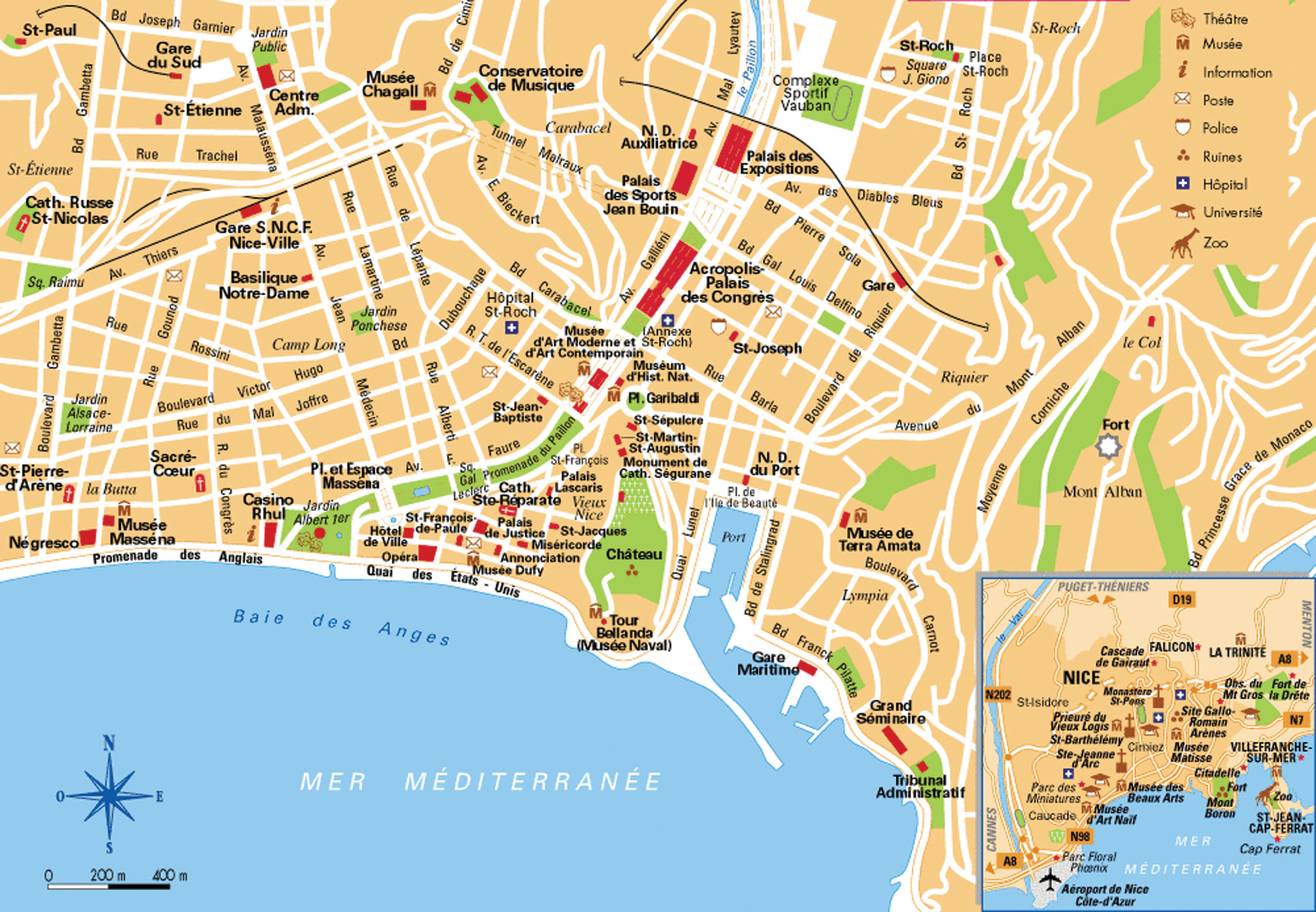 Map of Nice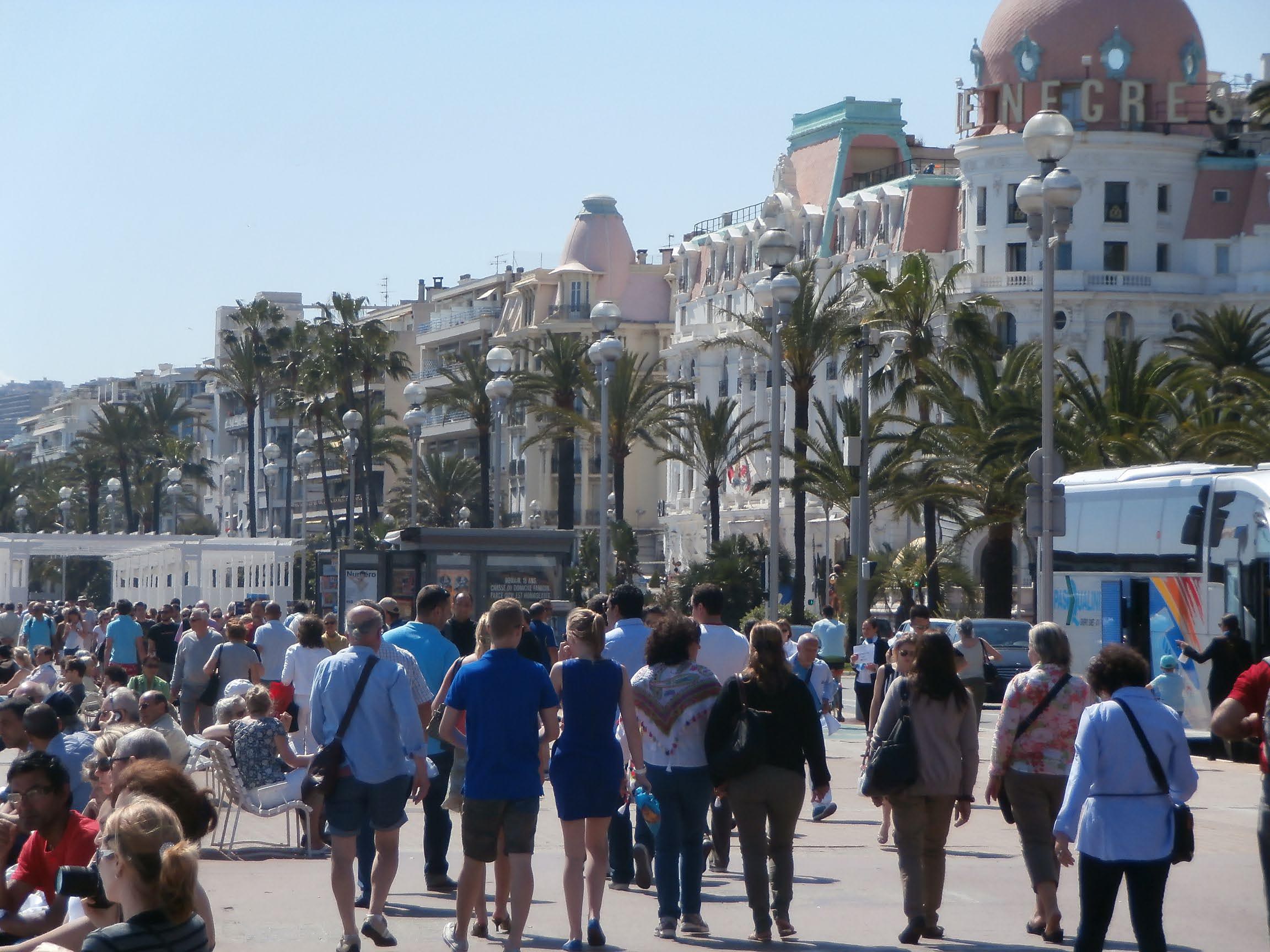 Promenade des Anglais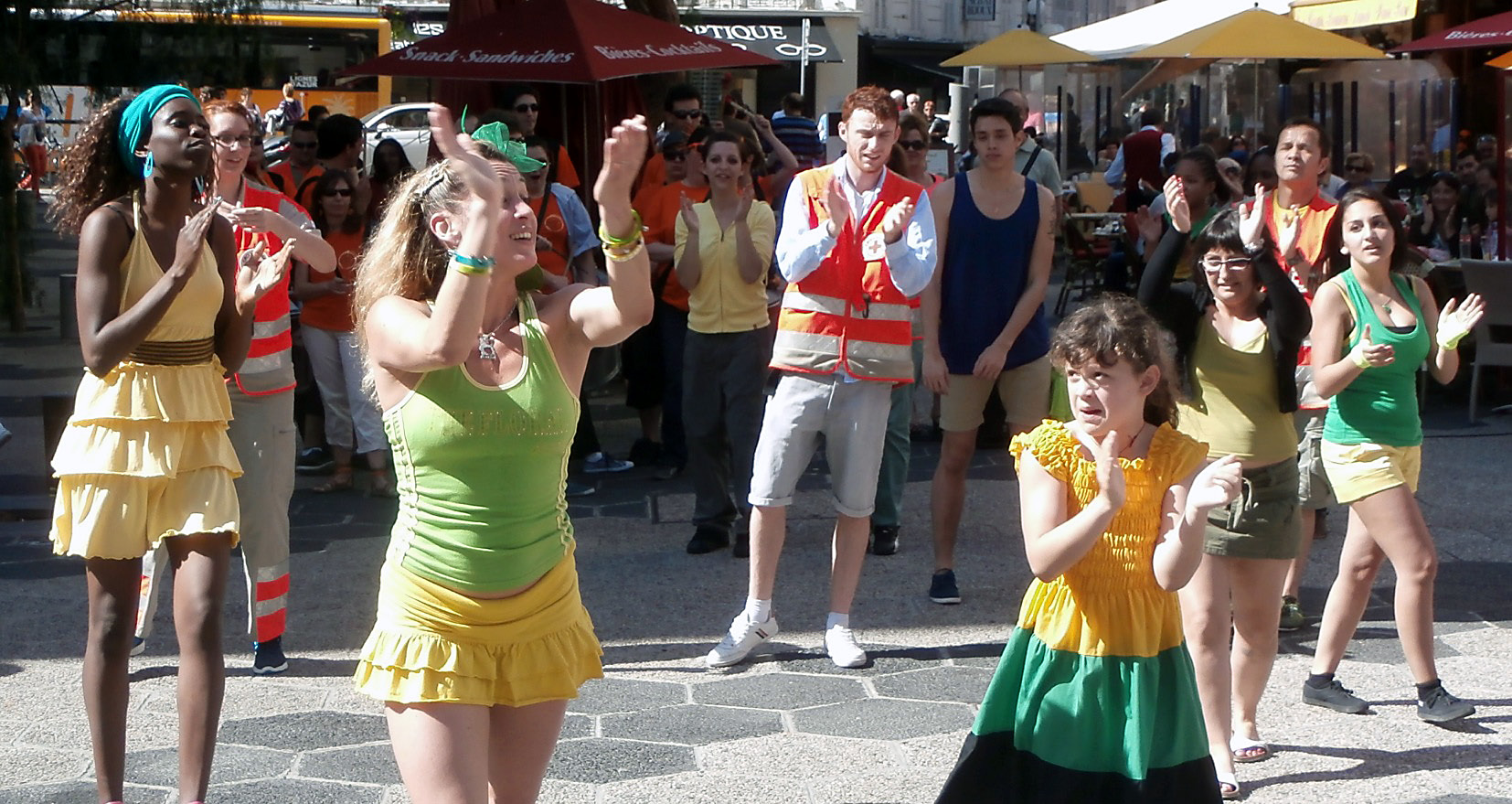 Dancing
They're raising money for some sort of medical charity. I think they're nurses.
12/05/2013
(Sunday)
---
To LYON
Took me most of the day to get here. I had a pleasant meal in the restaurant next door to the hotel. I accidentally ordered tripe sausages, and I expected to be revolted when they arrived; but no, they were good. Lyon's sausages are famous and they deserve to be if they can make tripe edible.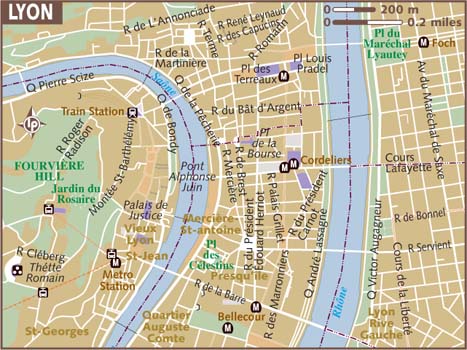 Map of Lyon
The hotel - one of those Premiere Classe thingummies - was about 3 km west of this map. Fourvière and the old city on the west bank of the Saône are where old Lugdunum was built.
13/05/2013
(Monday)
---
Tried to do some sightseeing in the morning before I left, but it wasn't very successful. The Gallo-Roman museum was closed on Mondays (natch) and there wasn't much else I wanted to see. The cathedral was very nasty from the outside, and it seemed to have something going on inside so I was not happy to go in. Also, there's no damn parking within several kilometres of the old city. I was parked illegally and was worried about getting too far from the car lest it be towed in my absence.
Theatre seats
Perfectly standard Roman theatre. The thing is repaired for modern use as you ca tell from the nice square edges on the terraces.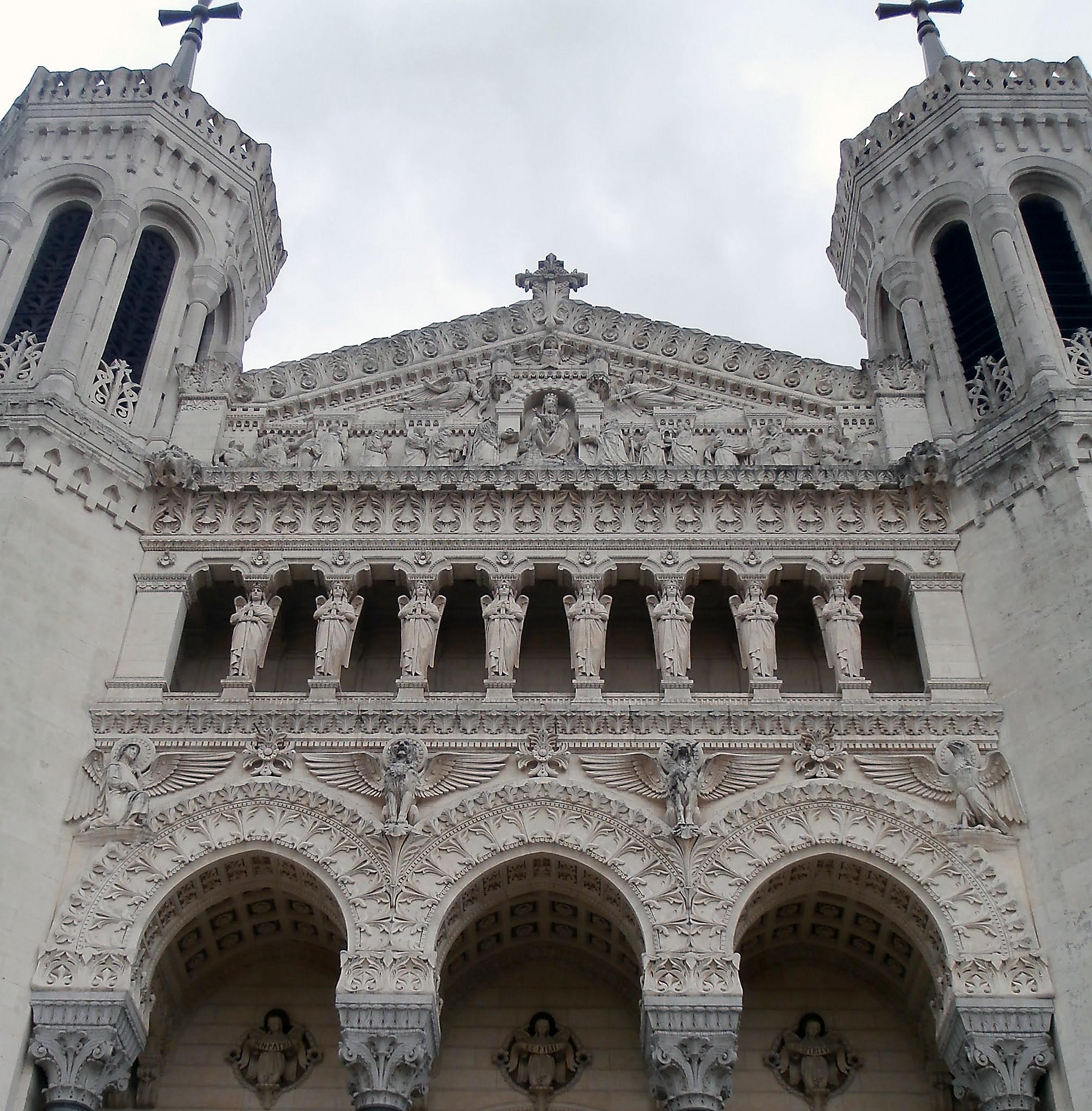 Basilica Notre Dame
In Fourvière, near the theatre but just off the map.
Over the top and round the bend.
On the way north I stopped at VEZELAY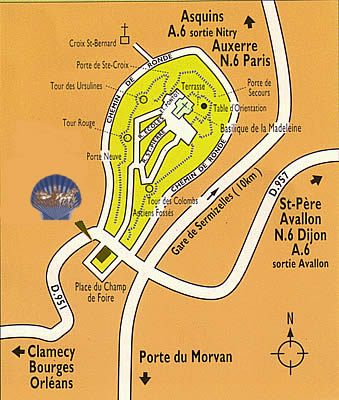 Map of Vézélay
Formerly a main stage on the pilgrimsage trail to Santiago de Compostella.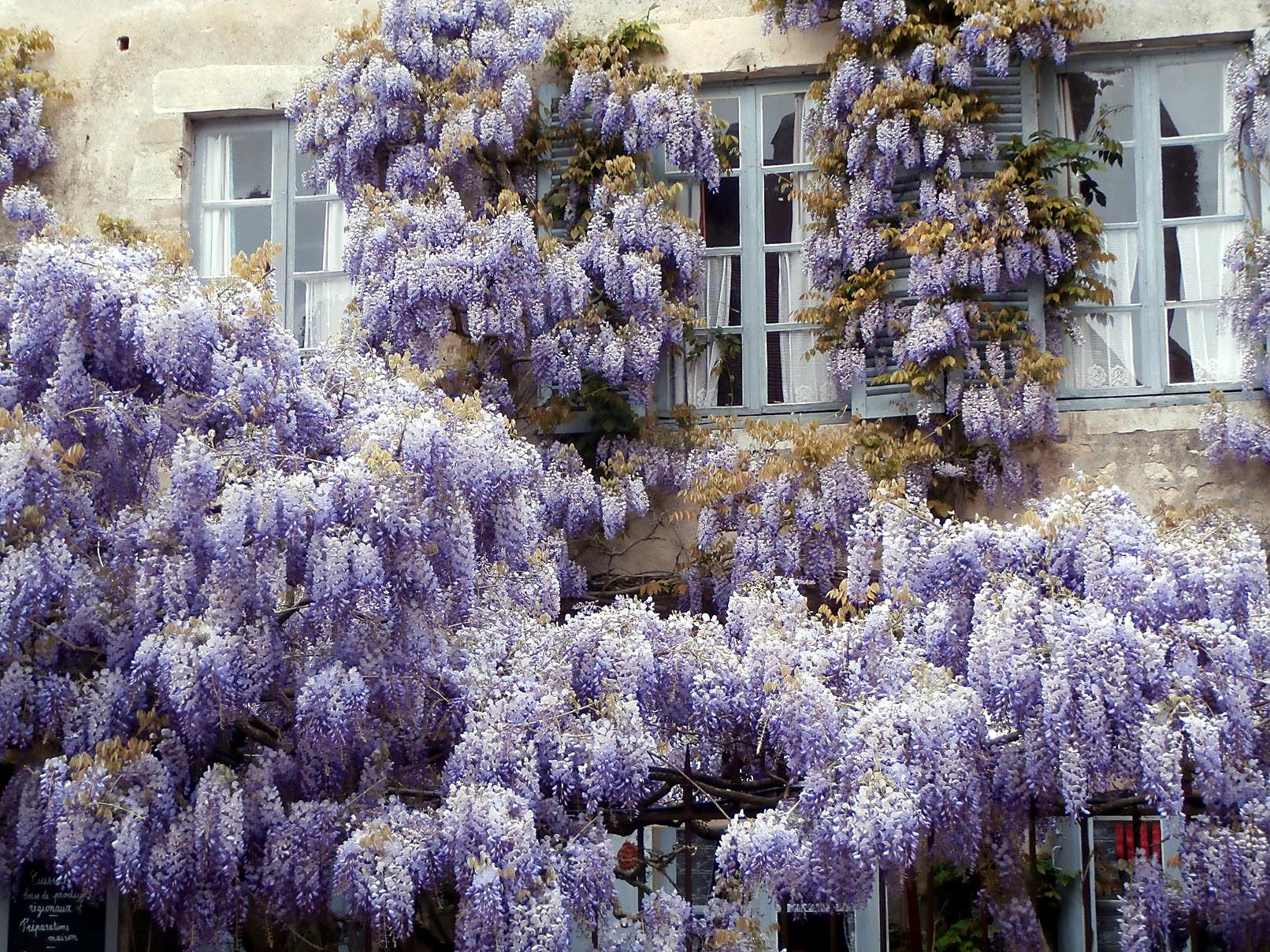 Flowers
These were taking over a shopfront in the rue St Pierre leading up to the church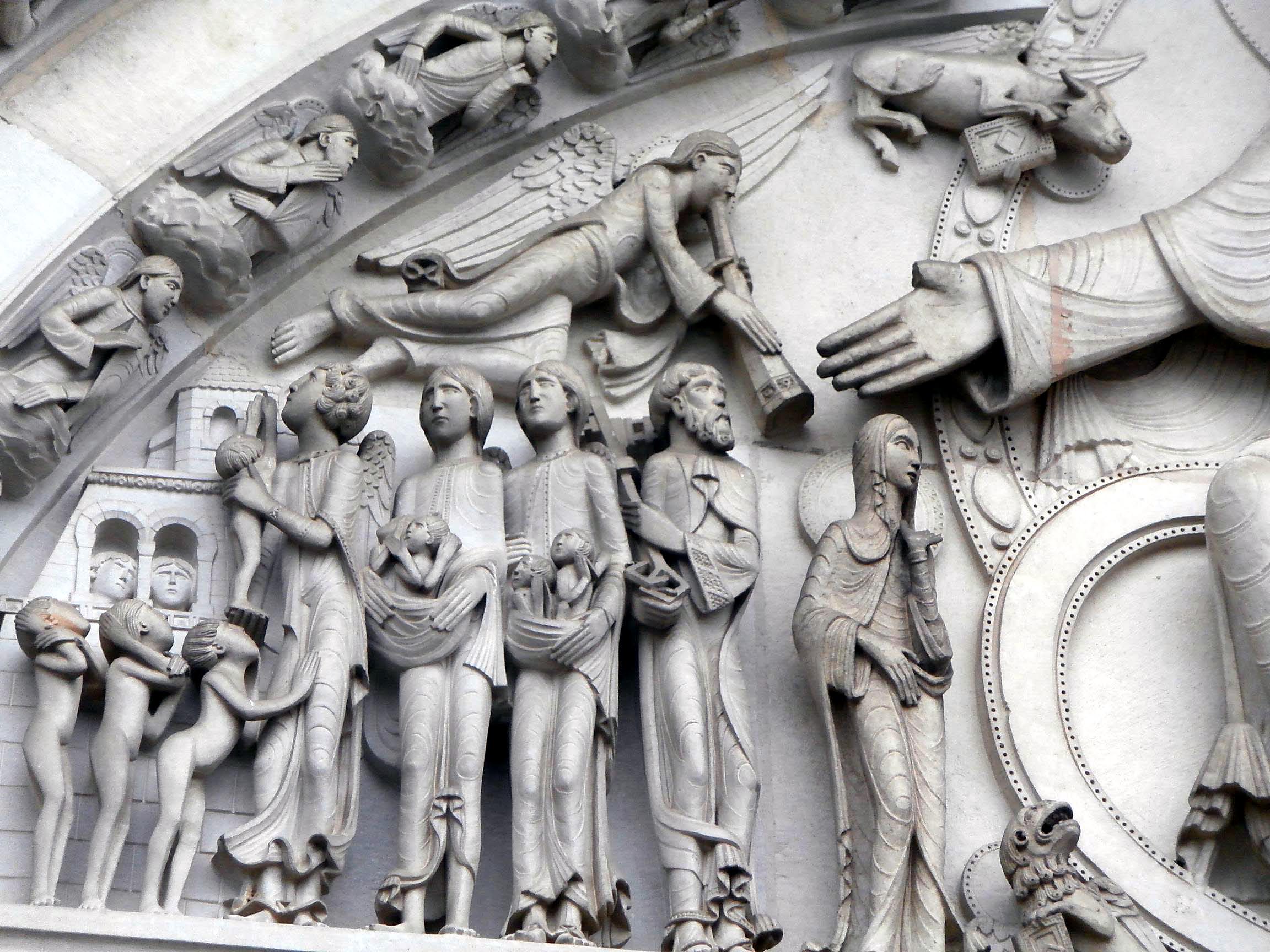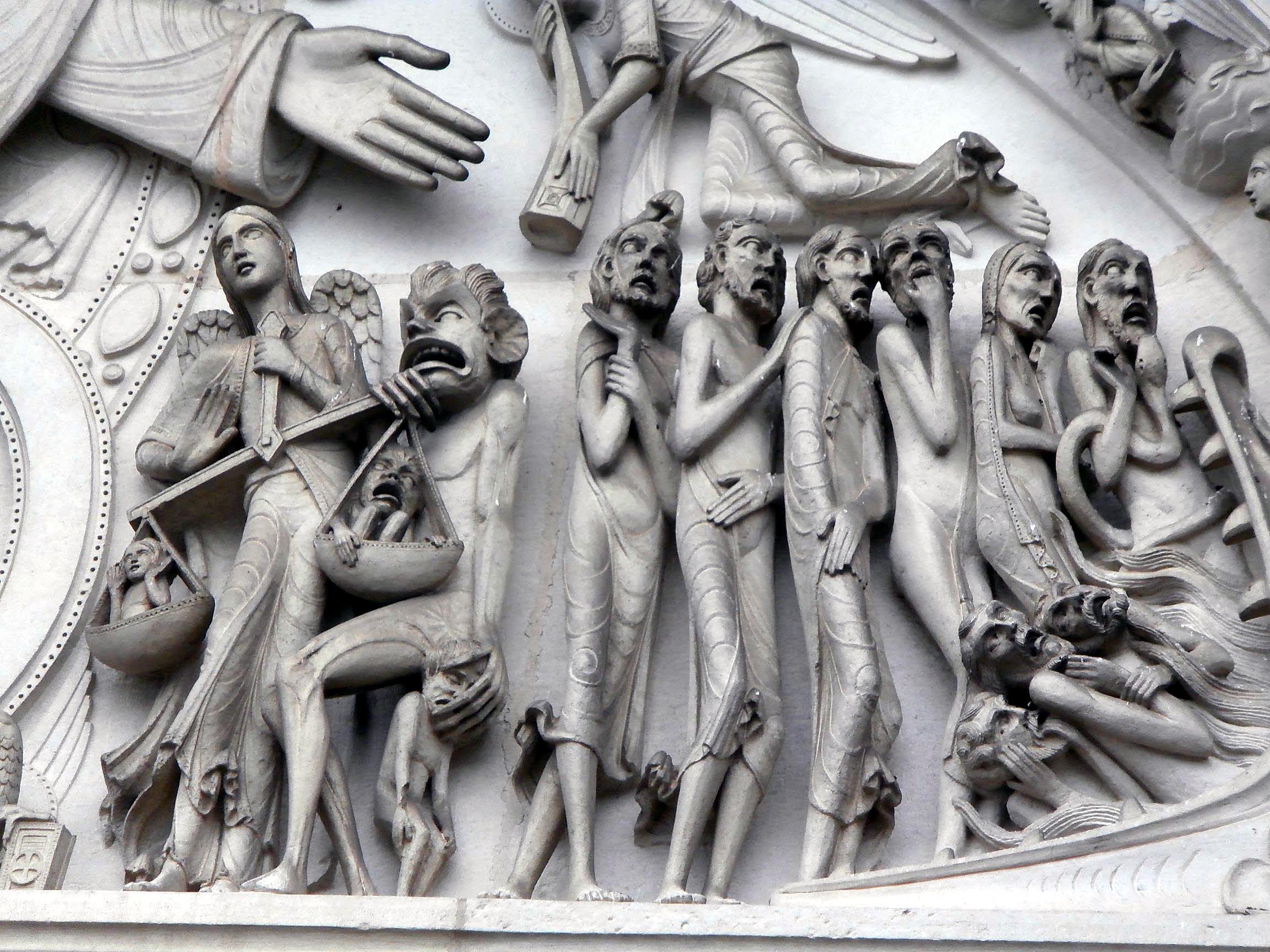 Left and right details of the tympanum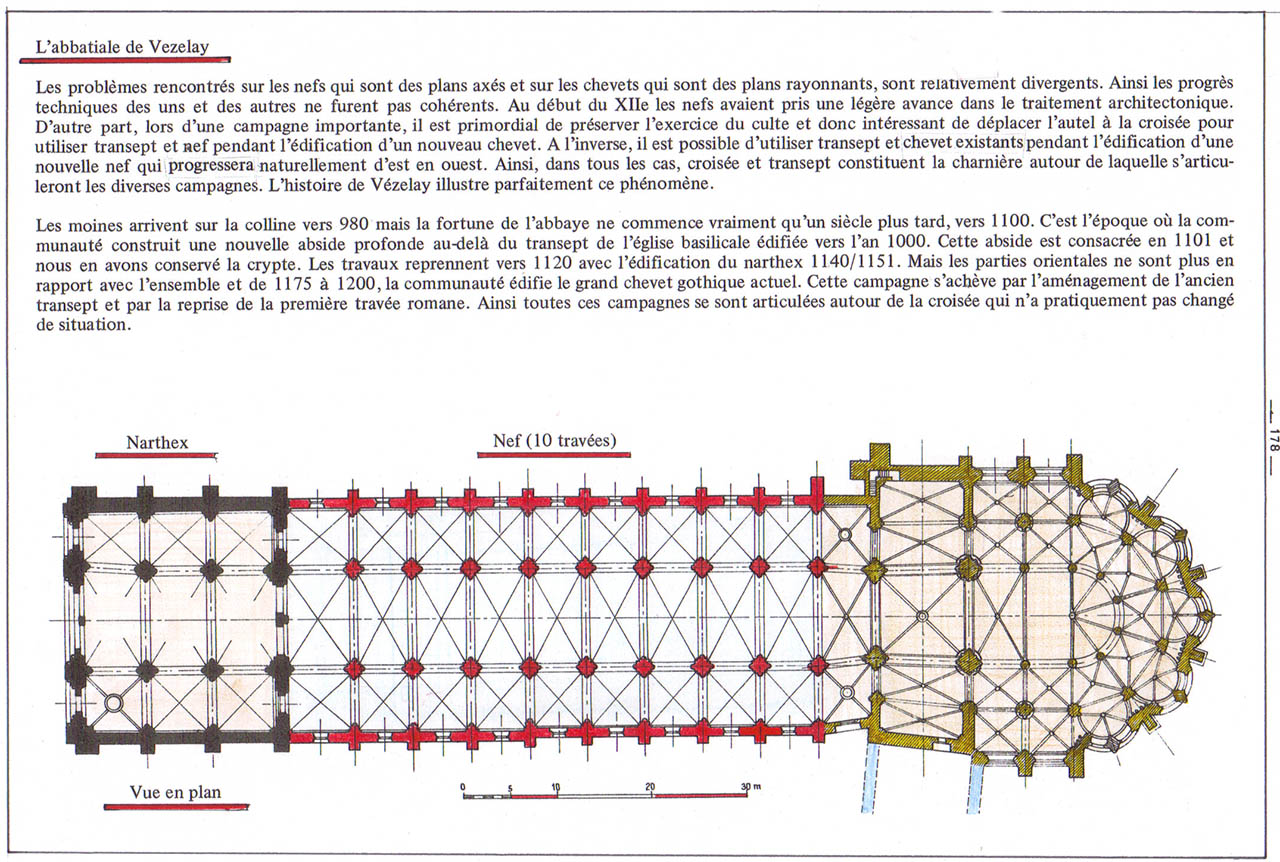 Plan of the Abbey Church
Basilique de Ste Marie la Madeleine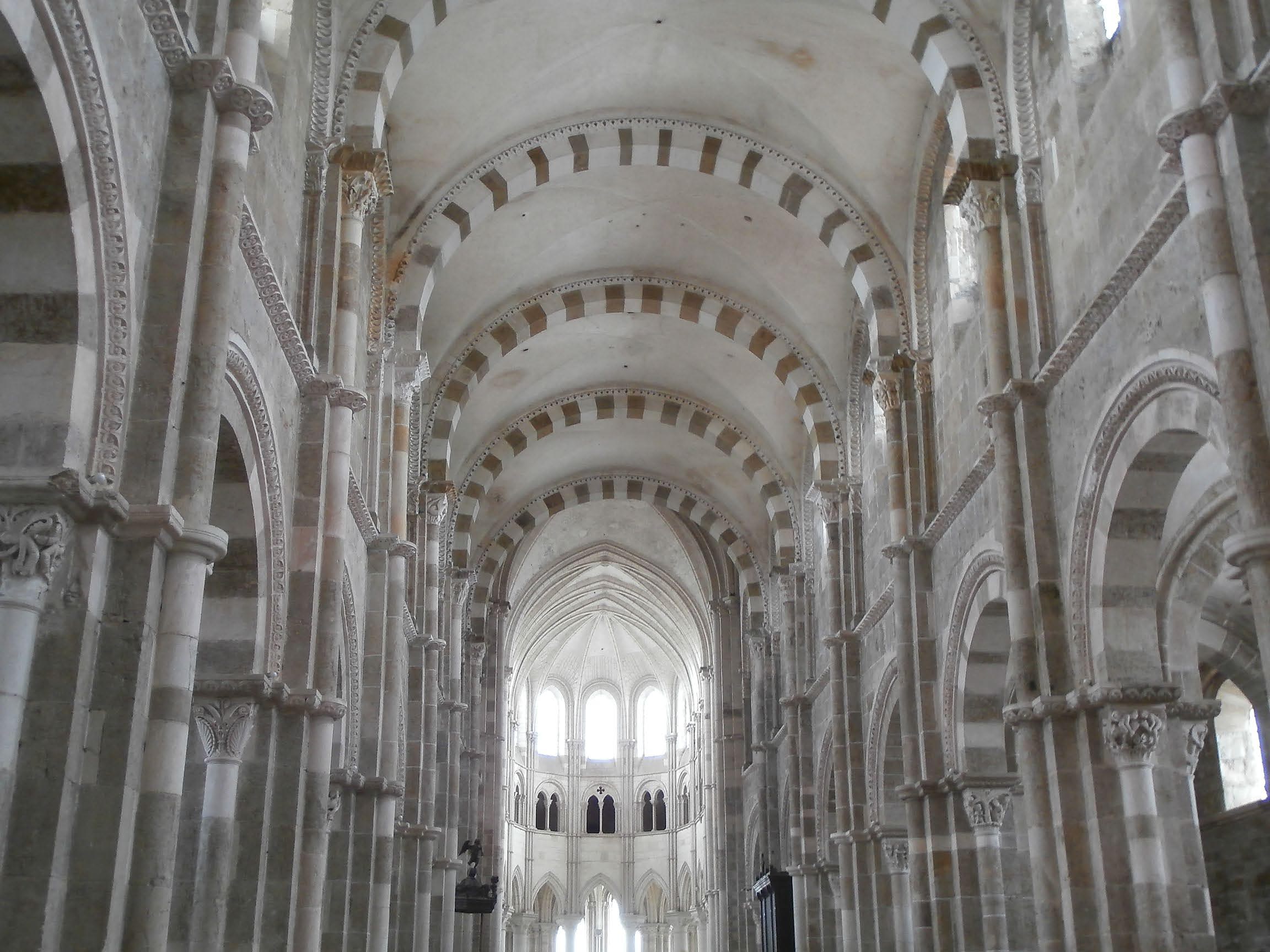 Nave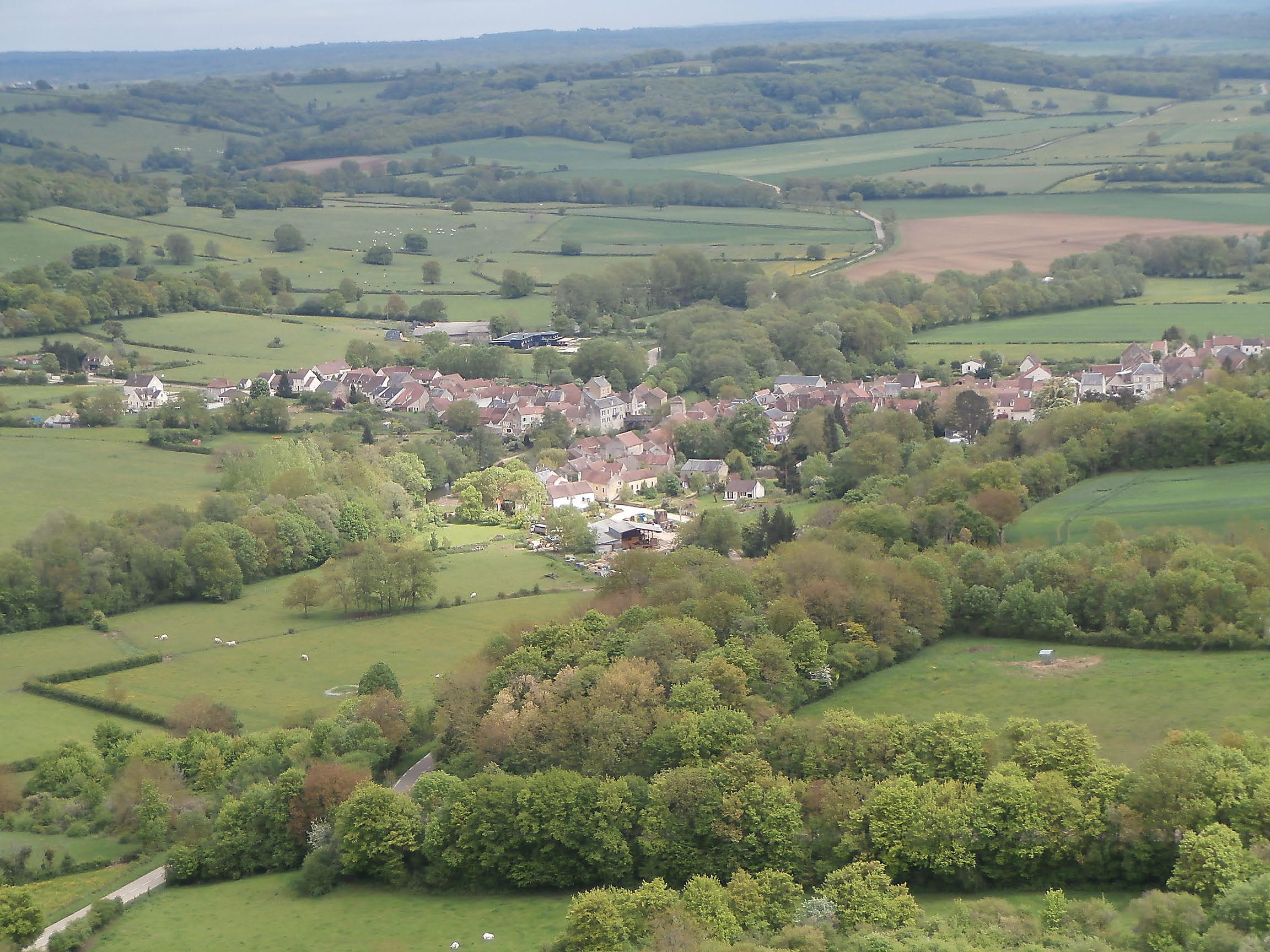 View from the terrace
The small town of St-Père
Eventually arrived at AUXERRE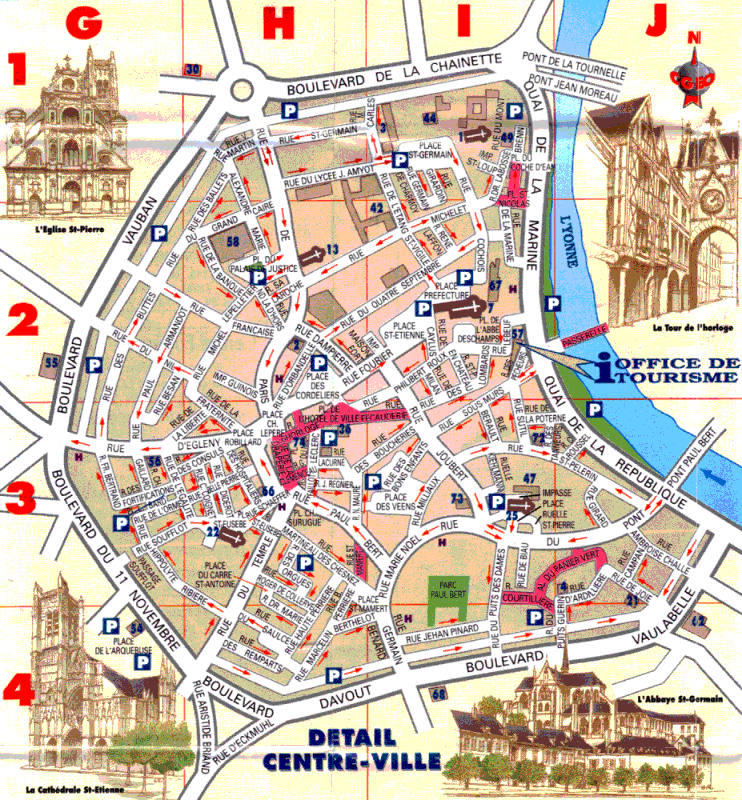 Map of Auxerre Cetre-Ville
Hotel is just off the west edge of this map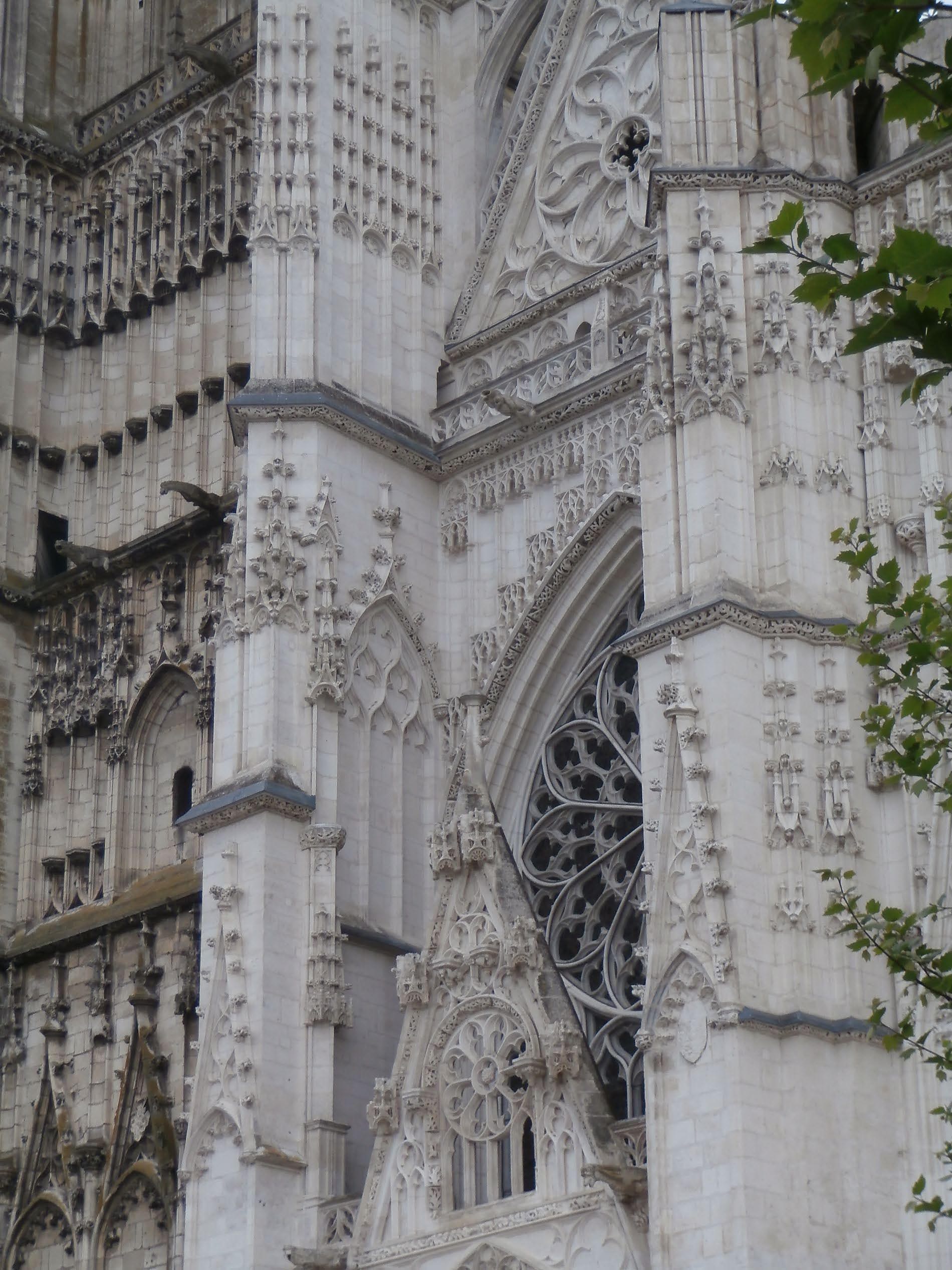 Cathedral St Etienne
It's dedicated to my saint. I wish I liked it better. It looks a bit like a wedding cake.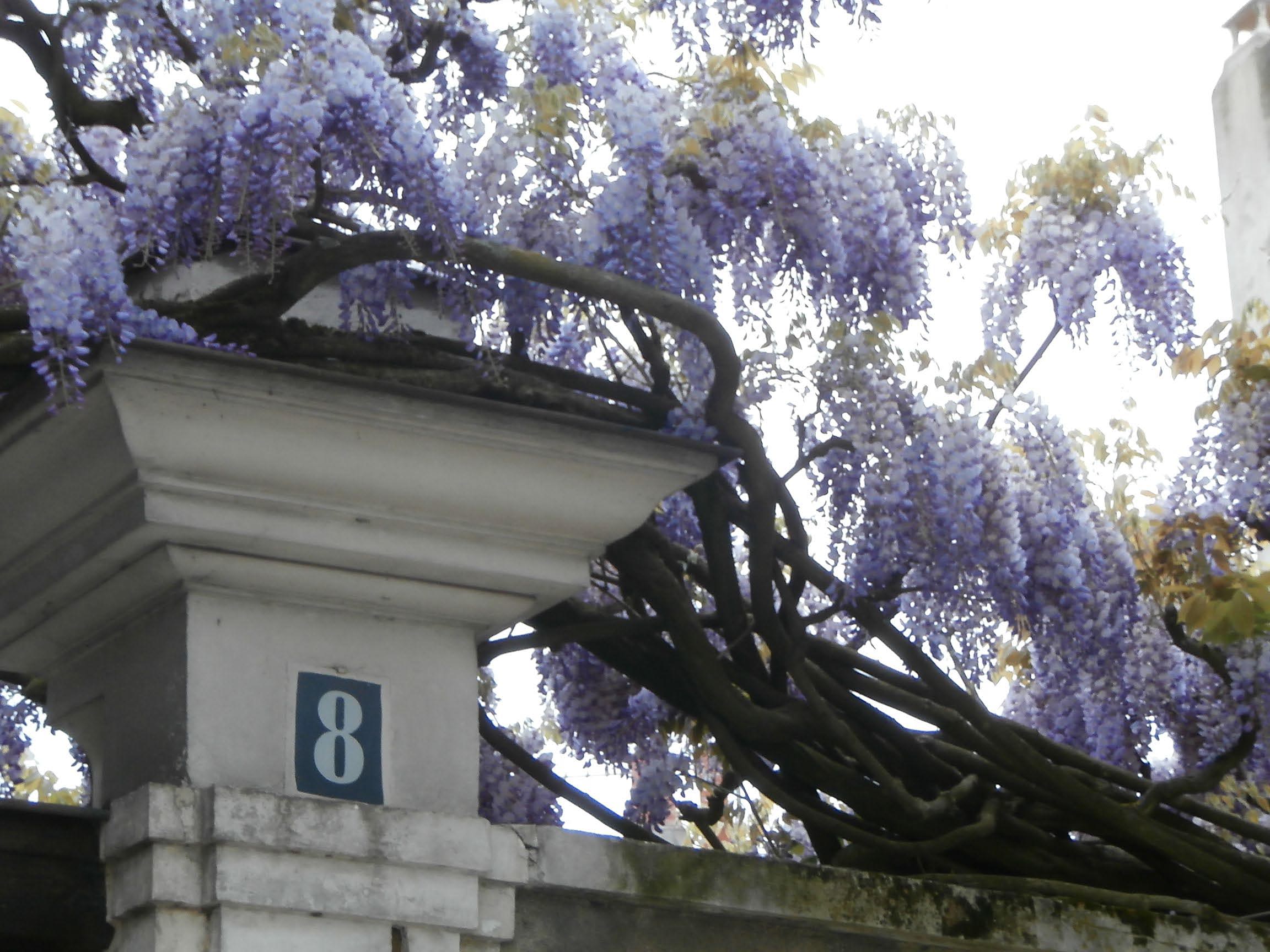 More of those flowers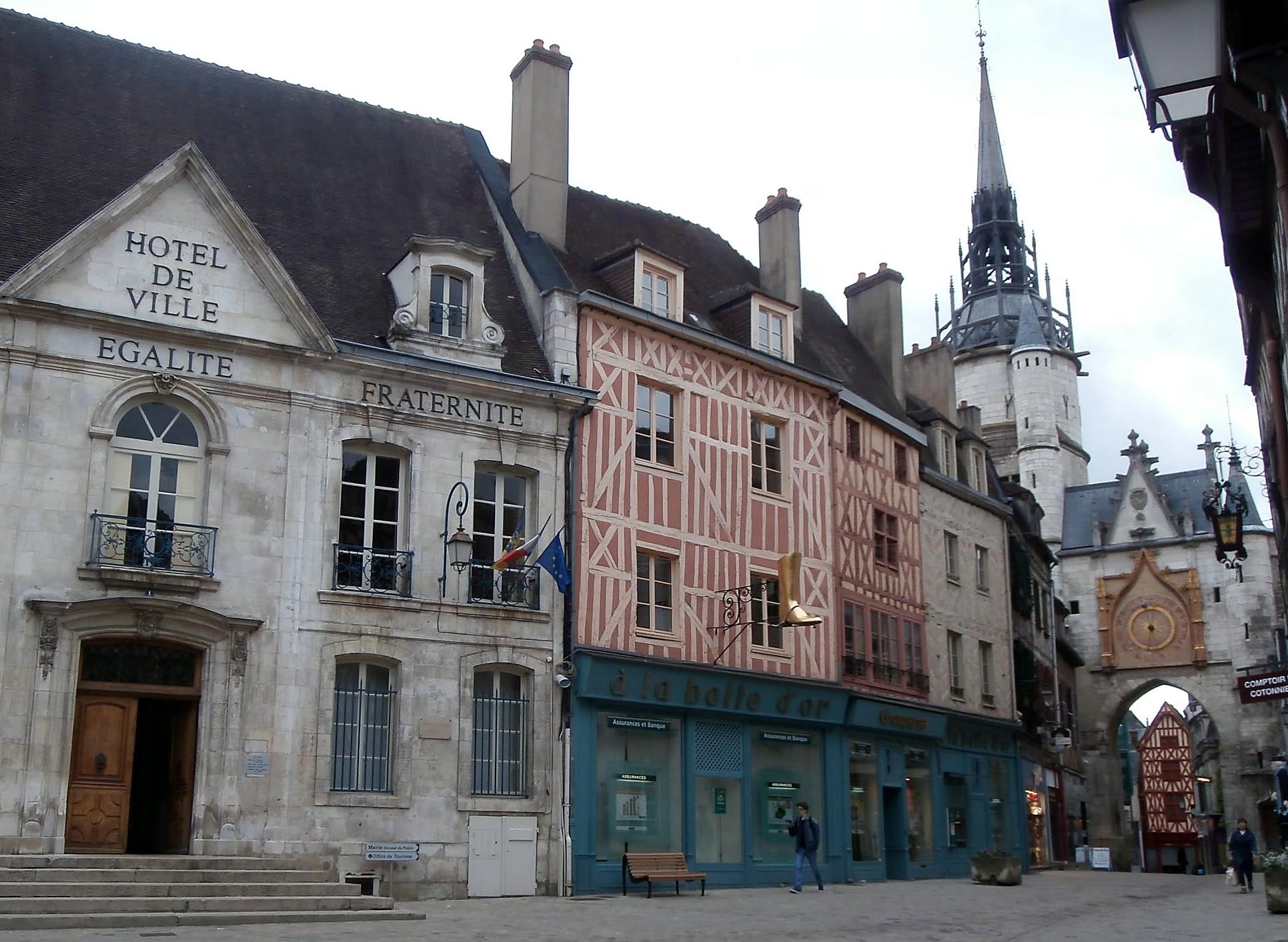 Place de l'Hotel de Ville.
With the Tour de l'Horloge at right.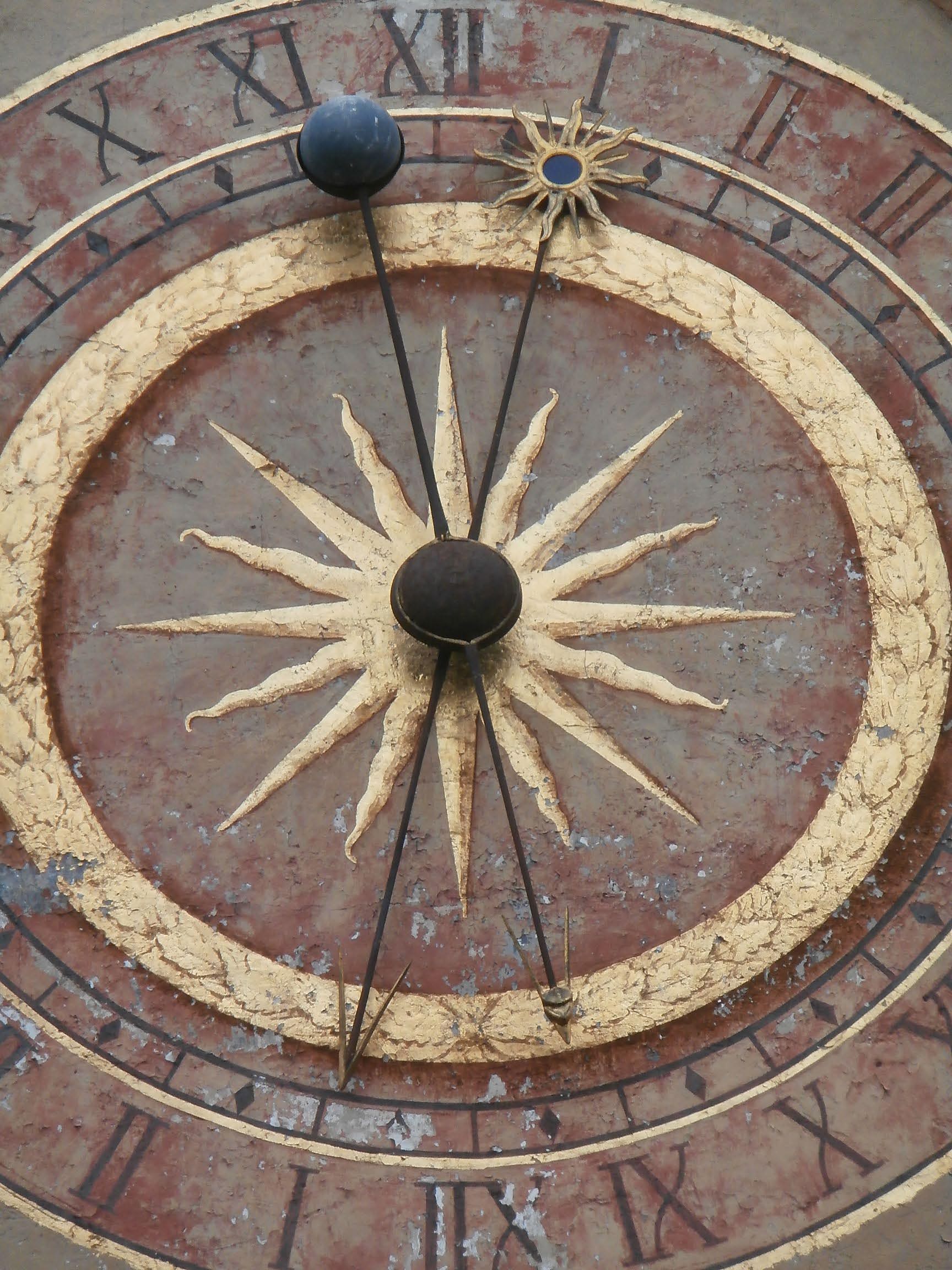 L'Horloge.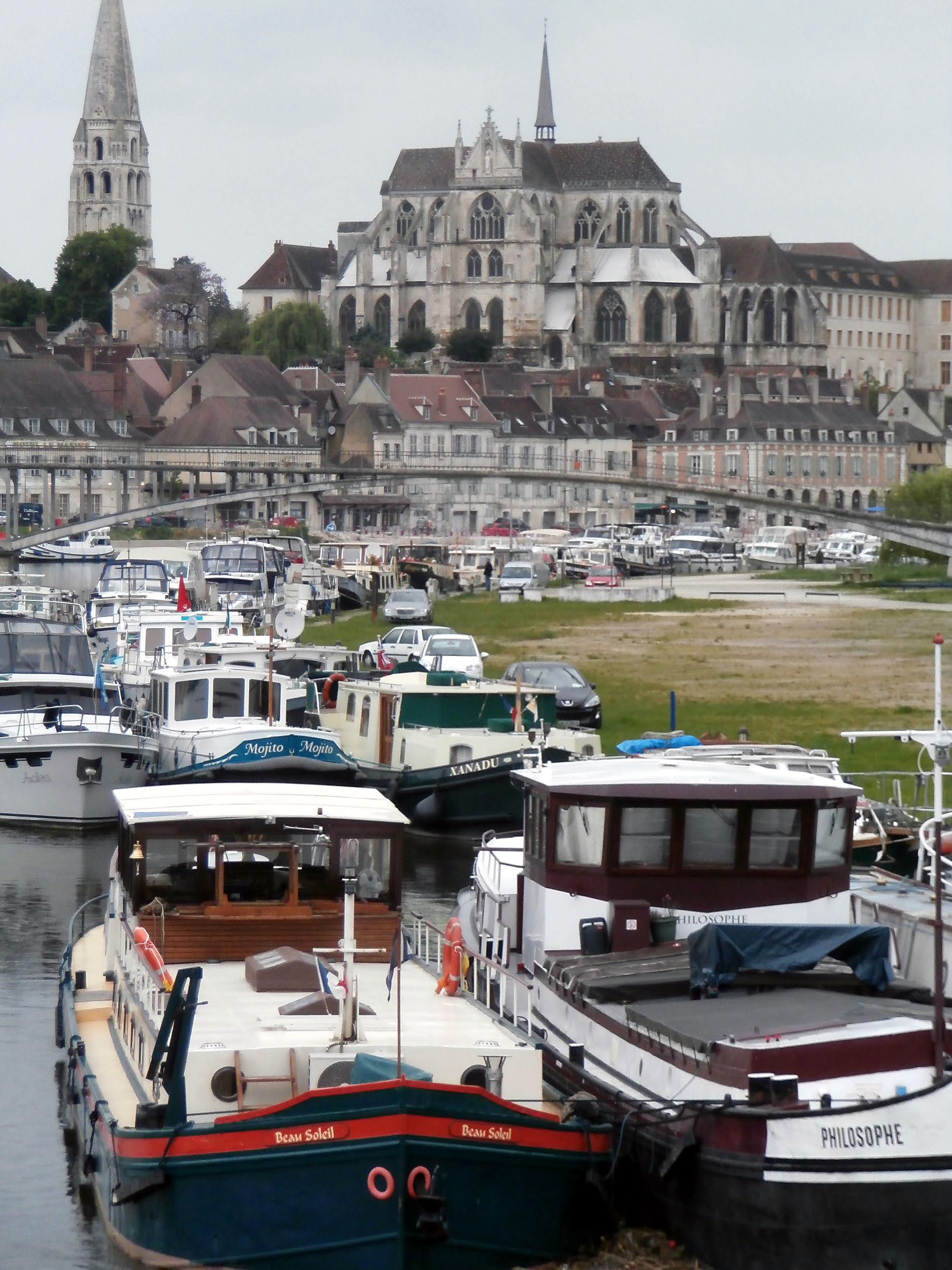 Boats on the Yonne river.
There are a number of houseboats here, and I suspect several have come very long distances to this mooring. That's St Etienne in the background.
14/05/2013
(Tuesday)
---
Left for PARIS.
Dropped the car at the airport. Put the bags in storage and took off for the city with the intention of visiting Versailles. Unfortunately, by the time I got out and checked times I was really too late. This will be one of my disappointments - like missing Ravenna in Italy or Jerash in Jordan or ... Anyway, went into town and wandered about, drank coffees, shopped at the riverbank book stalls. Then back to the airport to wait for the plane.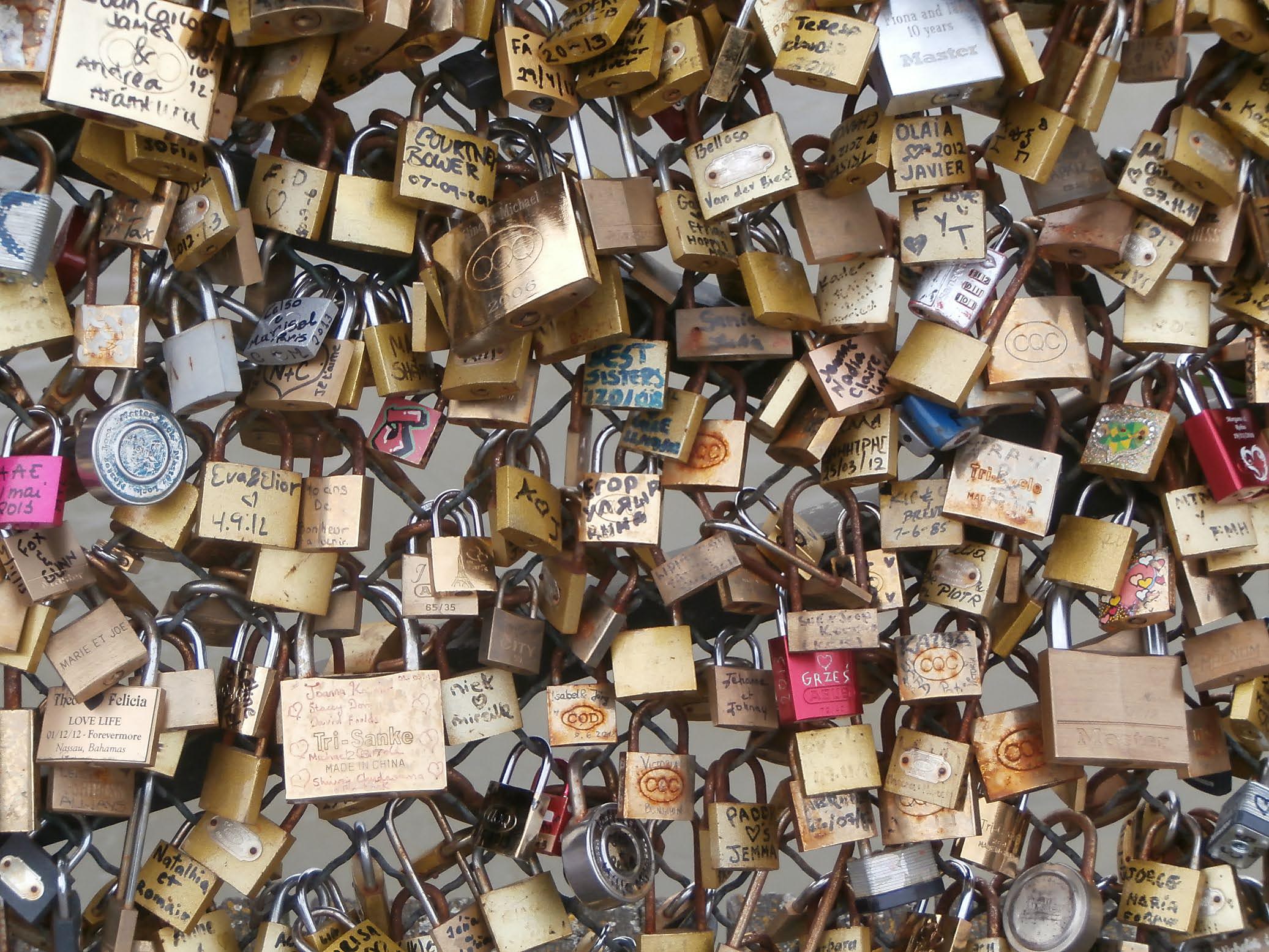 Love locks
I didn't notice this before, but along this bridge - I forget which one - there are these mementoes of undying love. Bit of a weird idea, I reckon....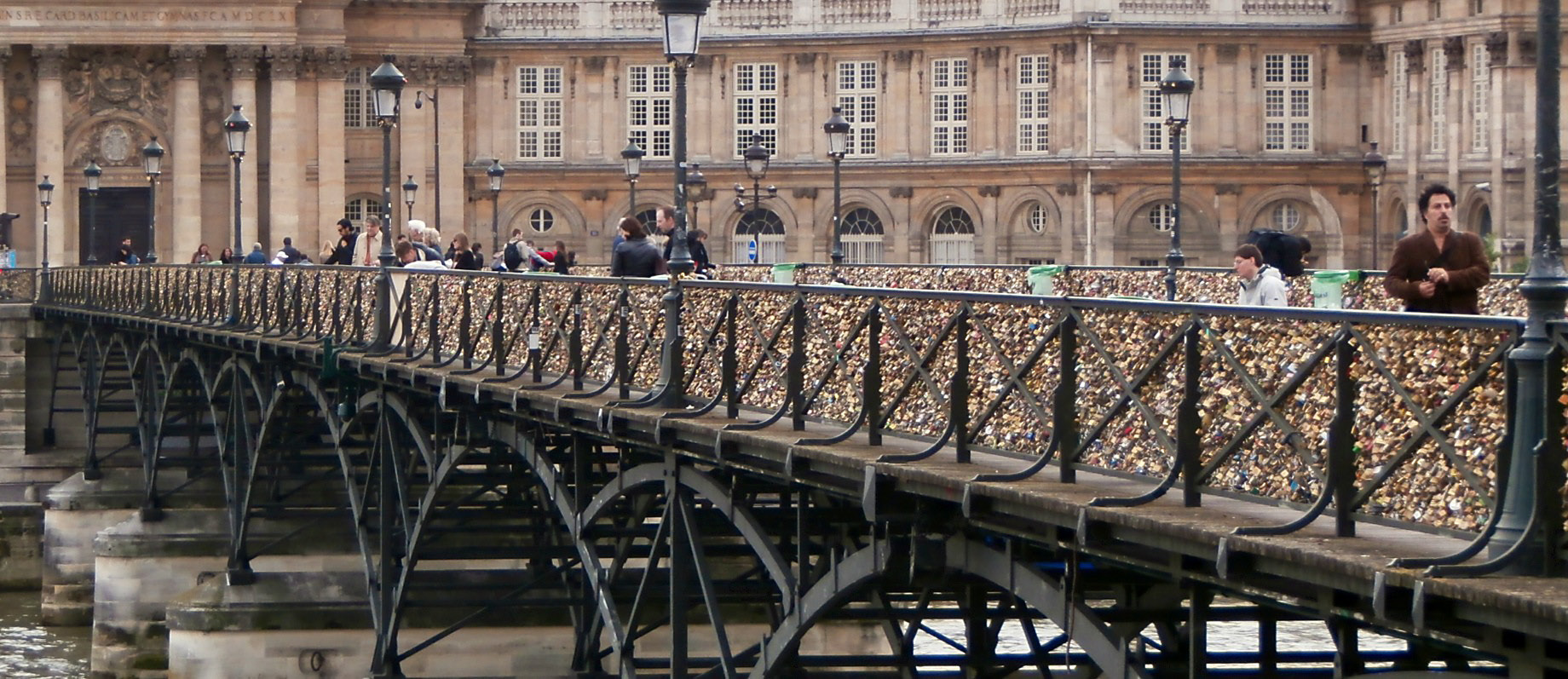 Bridge of locks.
... but it seems to be a popular one.
16-17/05/2013
---
PARIS - GUANGZHOU - BRISBANE
What a tedious flight. And the most unpleasant customer service of the whole trip was the sour-faced girl serving coffee at Baiyuan airport.